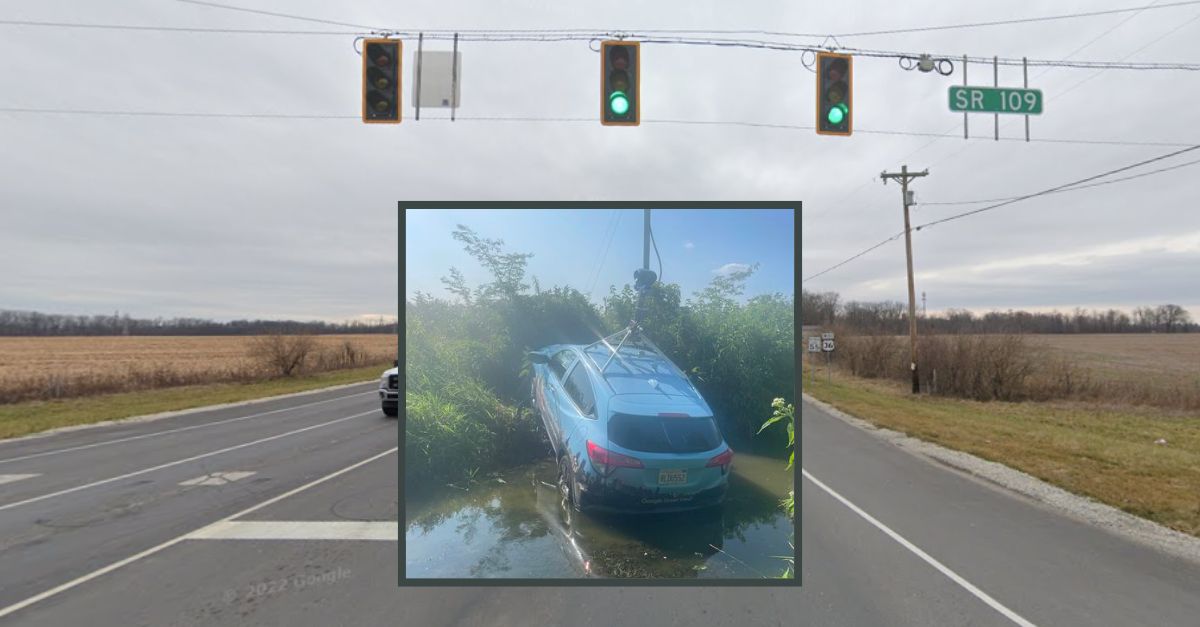 Lights at the intersection of SR 109 and US 36 in Middletown, Indiana (via Google Maps). Inset: the Google car that led police on a high-speed chase is removed from a creek (via Middletown (Ind.) Police Department).
A Florida man driving a Google Vehicle ended up crashing into a creek after allegedly leading police in Indiana on a high-speed chase over rural roads.
Coleman Ferguson, 37, was allegedly spotted by Middletown Police Chief Landon Dean driving "a small vehicle passing several other vehicles" as it drove west on US 36 in front of an area high school.
"Chief Dean was able to determine the speed of the small vehicle at over 100 miles per hour," Middletown police said in a statement posted to Facebook.
Dean identified the car as a "Google Mapping car with several 360 degree cameras mounted on a tall antenna on top of the car."
Dean caught up with the car as it continued to travel at speeds "well over 100 miles per hour" and "passing several other vehicles," according to the statement.
"The Google Vehicle refused to stop," police said.
After driving for several miles, the Google car allegedly used at least a degree of caution before blowing through a red light.
"The Google Vehicle slowed down at the intersection of State Road 109 and US 36 due to red light and then continued through the red light," the police statement said.
After trying to make a left turn "due to a bridge being out," the car "lost control and drove through a yard and then into a creek where it became stuck."
Ferguson was then "escorted out of the vehicle" and taken into custody. According to police, he was identified by his Florida driver's license.
"Mr. Ferguson stated that he worked for Google and was scared to stop," the Middletown police statement said.
Indiana court records show that he has been charged with resisting law enforcement while using a vehicle, a level 6 felony punishable by six months to two-and-a-half years.
More from Law&Crime: Hijacked school bus leads cops on wild chase through corn fields across state lines
Have a tip we should know? [email protected]