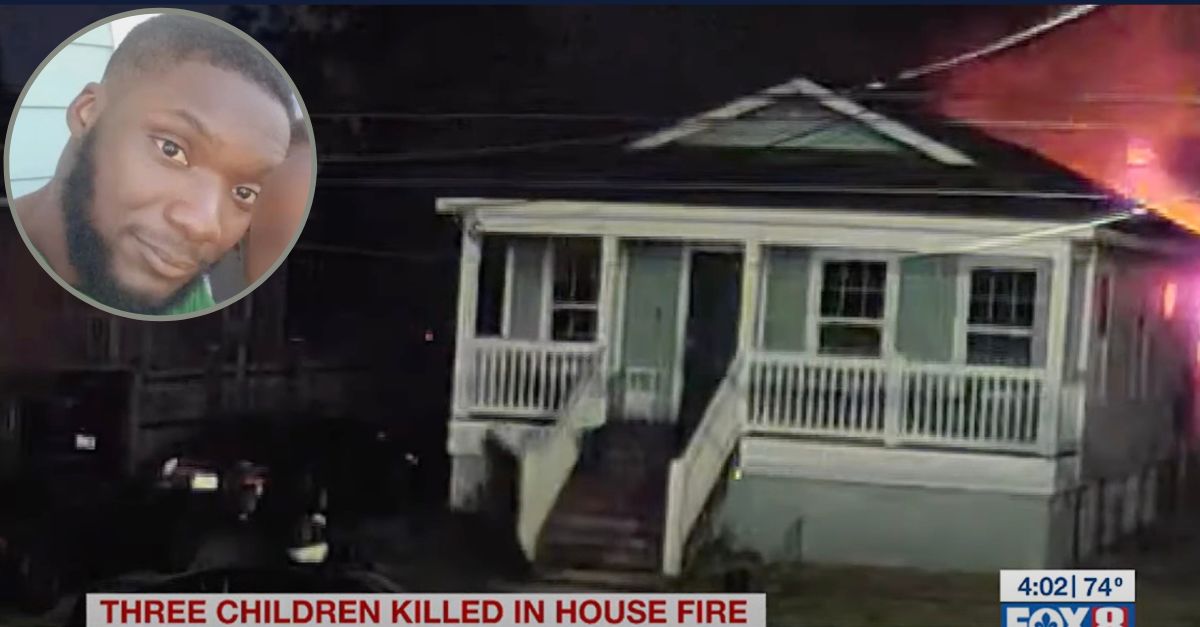 Joseph Washington Sr. allegedly leaving the home he'd just set ablaze with his 3 young children inside (WVUE screenshots)
A 29-year-old father in Louisiana was arrested for allegedly killing his three young children by setting fire to his home immediately after he threatened to burn the place down.
Joseph Washington Sr. was taken into custody this week and charged with three counts of second-degree murder, three counts of second-degree cruelty to a juvenile, and one count of aggravated arson, authorities said.
According to a press release from the New Orleans Police Department, a woman — identified as the children's mother — called 911 at about 11:55 p.m. on Tuesday and told the emergency dispatcher the father of three children was threatening to burn down their home in the 4900 block of America Street in the Seventh District. They were 3, 5, and 8.
The caller said of Washington, "He's going crazy," and asked police, "Can you please hurry?" in audio of the call obtained by NBC News. She reportedly said he threatened to burn the house down with their kids inside.
"He's screaming on the phone. I heard the kids screaming," she says. "Y'all have to just break through the door before anything happens, please!"
Moments later, a fire was reported at the same residence. Units with the New Orleans Fire Department arrived at about 12:14 a.m. New Orleans police arrived about five minutes later and found the home engulfed in flames.
Firefighters got the 8 and 5-year-olds out of the home and took them to a local hospital, where they died about an hour later. The 3-year-old never made it out of the home.
Police said the home was intentionally set ablaze following a domestic dispute between Washington and his wife. The wife was not at home at the time.
Police quickly identified Washington as the father of the three young victims and the prime suspect in their death. An alert was issued for his vehicle, found on Wednesday partially submerged in the Mississippi River in Gretna. Washington was not in the vehicle.
Authorities received a tip that Washington got into another vehicle and found him driving east on Interstate 610. He was arrested after a traffic stop when he got out and tried to flee by jumping off an overpass. He was taken to a hospital before being booked into jail.
Speaking to The Times-Picayune/The New Orleans Advocate during the manhunt, Washington's father, Troy McDonnell, implored his son to turn himself in.
"If I catch him, I'm gonna kill him," he told the station.
Court documents obtained by New Orleans Fox affiliate WVUE showed that the children's mother filed for divorce from Washington in 2019, accusing him of assaulting her numerous times.
Have a tip we should know? [email protected]