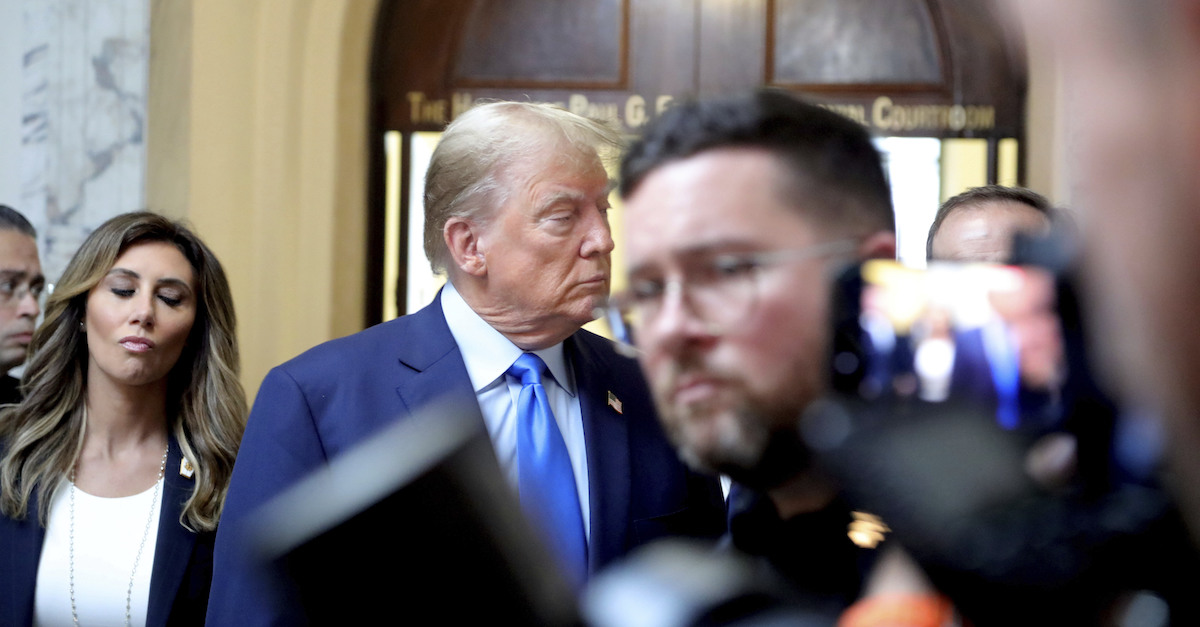 Lawyer Alina Habba (left) and former U.S. President Donald Trump (right) enter court on October 2, 2023 in New York City for his civil fraud trial in a lawsuit brought by New York State Attorney General on October 2, 2023. (Chris Moore/MediaPunch /IPX)
Former President Donald Trump won't get a jury trial but will instead get a bench trial before a judge he's attacked as a "ROGUE, OUT OF CONTROL, TRUMP HATING JUDGE" in the $250 million civil fraud lawsuit that New York Attorney General Letitia James (D) filed to end his business empire in the Empire State.
Trump appeared in Manhattan Supreme Court in person on Monday alongside his lawyers Christopher Kise and Alina Habba for the start of his trial.
Manhattan Supreme Court Justice Arthur Engoron, who already handed down a damaging partial summary judgment in James' favor last week, reportedly noted that there would be no jury trial because "nobody asked for" one, whether that person be AG James or Trump's own legal team.
Trump isn't getting a jury trial in his $250m civil fraud suit brought against him by New York AG James because his legal team didn't request one on the paperwork https://t.co/7zvUfytiEr

— Hugo Lowell (@hugolowell) October 2, 2023
Court records show that the Letitia James on July 31 put Trump's legal team on notice that she was seeking a trial without a jury. Between then and now, Trump's lawyers did not fight over the issue.
Context:

It's unclear that a jury trial would have been available under the statute, and it likely wouldn't have been.

But the judge said neither side litigated the issue.

— Adam Klasfeld (@KlasfeldReports) October 2, 2023
In last week's summary judgment ruling, Engoron ordered Trump's lawyers to pay sanctions of $7,500 each, found the former president, Donald Trump Jr., Eric Trump, and the Trump Organization liable for fraud, canceled business certificates, appointed retired Judge Barbara S. Jones as an independent monitor for the Trump Organization, and ordered the parties in the case to "recommend the names of no more than three potential independent receivers to manage the dissolution of the canceled LLC" within 10 days of the ruling.
In the ruling, Engoron concluded that wildly inflated valuations — by the billions — of the former president's assets, including his Trump Tower triplex apartment's overestimation by "a factor of three," can "only be considered fraud."
James' lawsuit alleged that Trump inflated his net worth by billions, deceiving not only the public about his wealth but also deceiving banks to obtain more favorable loans.
"Each Statement from 2011 to 2021 provides Mr. Trump's personal net worth as of June 30 of the year it covers, was compiled by Trump Organization executives, and was issued as a compilation report by Mr. Trump's accounting firm. Each Statement provides on its face that its preparation was the responsibility of Mr. Trump, or starting in 2016, the trustees of his revocable trust, Donald Trump, Jr. and Allen Weisselberg," the lawsuit said. "Each Statement was personally certified as accurate by Mr. Trump, by one of his trustees, or in 2021 by Eric Trump, when submitting the Statement to financial institutions with the purpose and intent that the information contained in the Statement would be relied upon by those institutions."
In his summary judgment ruling, Justice Engoron was particularly befuddled by Trump lawyers "absurdly" arguing that calculating square footage of his Trump Tower apartment was a "subjective process."
"In opposition, defendants absurdly suggest that 'the calculation of square footage is a subjective process that could lead to differing results or opinions based on the method employed to conduct the calculation,'" Engoron wrote, adding soon after: "Good-faith measurements could vary by as much as 10-20%, not 200%. A discrepancy of this order of magnitude, by a real estate developer sizing up his own living space of decades, can only be considered fraud."
The ruling from Engoron came not long after a last-ditch effort by Trump to sue the judge, claiming the jurist was ignoring appellate rulings.
Earlier on Monday, Trump blasted both AG James and the judge on Truth Social, calling James a "RACIST" and Engoron "A ROGUE, OUT OF CONTROL, TRUMP HATING JUDGE."
"JUST ARRIVED AT THE COURTHOUSE TO FIGHT A CORRUPT & RACIST ATTORNEY GENERAL, AND A ROGUE, OUT OF CONTROL, TRUMP HATING JUDGE, WHO REFUSES TO FOLLOW THE APPELLATE COURT DECISION WHICH KNOKS OUT 80% OF THIS SHAM CASE," the all caps post said. "THIS IS THE CONTINUATION OF THE GREATEST WITCH HUNT OF ALL TIME. ELECTION INTERFERENCE!"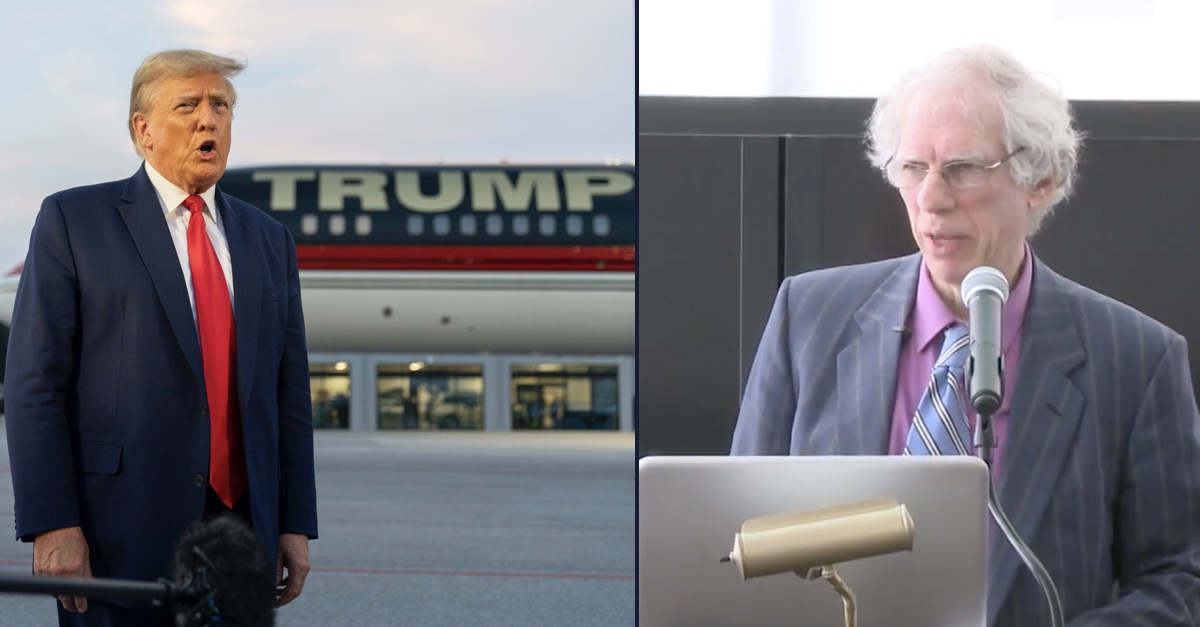 President Donald Trump speaks on Aug. 24, 2023, in Atlanta. (AP Photo/Alex Brandon, File), Judge Arthur Engoron (CUNYQueensborough/YouTube screengrab)
But while the quadruply indicted former president attacks the judge and the attorney general as "Democrat operatives" out to destroy him, it should be noted that Trump has argued in other blue jurisdictions that he can't get a fair trial due to a woefully biased jury pool.
In short, even if a jury trial was available in the New York fraud lawsuit you can bet that there would have been complaints about that too.
Have a tip we should know? [email protected]