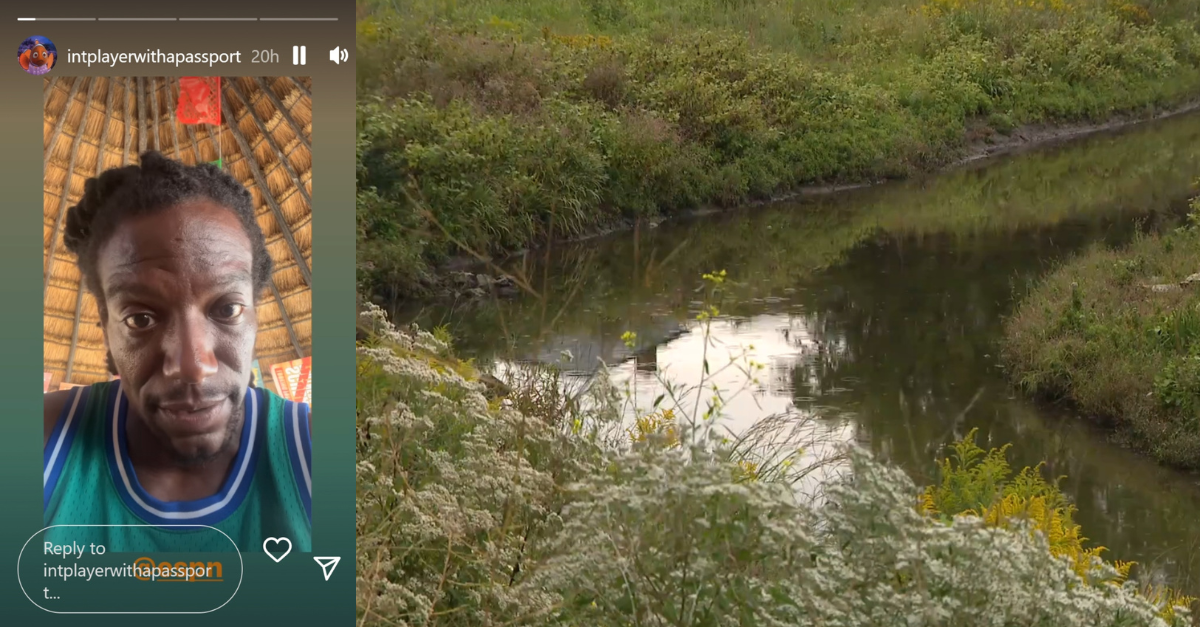 Sergio Brown surfaced in a post to Instagram on Monday, Sept. 18, 2023. His mother was found dead near a creek behind their home just two days before. (Screenshot on left: intplayerwithapassport on Instagram; screenshot: WBBM)
Sergio Brown, the former NFL player whose mother was found dead behind their home, has surfaced in videos posted Monday and Tuesday to Instagram.
"Fake news. Fake news. Fake news," he repeated in footage posted Monday to the account, intplayerwithapassport.
Cops in the Chicago area village of Maywood, Illinois, were looking for Brown after they and Brown's family discovered the body of his mother, Myrtle Simmons Brown, near a creek behind their home. Relatives could not get in touch with Sergio Brown.
Brittany Hill, the public information officer for the Cook County Bureau of Administration, told Law&Crime that the cause of death was "multiple injuries due to assault," and the manner of death was homicide.
"We're going to find out what happened because it's not normal for my sister to not answer her phone, not to respond to text messages," the slain woman's sister, Sheila Simmons, told local news station WGN. "People have been reaching out to her since Friday. No one was able to reach her. Now, I got the call this morning saying that she's missing, so immediately I came out here and find out my sister is dead."
Sergio Brown, a former defensive back for teams like the New England Patriots and Indianapolis Colts, did not appear to directly discuss his mother's murder in his Monday video, except to say that he believed "my f—— momma was on vacation in Sinaloa."
He claimed that the FBI arrived at his home on May 11, noting that it was also "Bob Marley's death day." He appeared to claim that the FBI and the Maywood Police Department had kidnapped him twice from the home.
"Don't come f—— with me!" he said, wrapping up the video.
Spanish-language music played loudly in the background. The video was reportedly posted at first with an apparent location of Mexico City, Mexico, according to Deadspin.
In another video on Tuesday, Brown sang "just keep swimming," and laughed.
Maywood police public information officer Carmen C. Rivera told Law&Crime on Tuesday that detectives are aware "a video that has surfaced on social media in relation to Mr. Sergio Brown." Brown is still considered a missing person and officers are looking into the video's authenticity, she wrote.
"Currently this is an active investigation, and the department is unable to share any further details at this time," Rivera said.
His next-door neighbor in Maywood, Carlos Cortez, told Chicago CBS affiliate WBBM that he last saw mother and son in person on Thursday.
He said that police saw on his own Ring doorbell that Sergio Brown had taken out the trash and had a bonfire burning all of Myrtle Brown's clothes.
He told the outlet that family members had said Sergio Brown "wasn't himself the past few months. He was out of his mind."
"Myrtle, she was an outstanding woman, and I'm hoping she's in the right place and I hope she's with God," Cortez reportedly said. "And like I said, I would've never expected this in a million years."
Have a tip we should know? [email protected]