Michael Perry III (Lynchburg Police Department), Avriel Hooks (family photo)
The estranged husband of a young Virginia mother found dead in a wooded area in late August just one month earlier violated a protective order and stole the victim's credit card, warrants allege.
Michael Lee Perry III, 21, was arrested on Aug. 29 and charged with murdering 20-year-old Avriel Hooks a week after the mother to a baby boy was last seen alive by her family members.
At the start of the investigation on Aug. 23, the Lynchburg Police Department called Hooks' disappearance "suspicious," as her family members worried that their loved one had suddenly and unusually ceased all contact with them.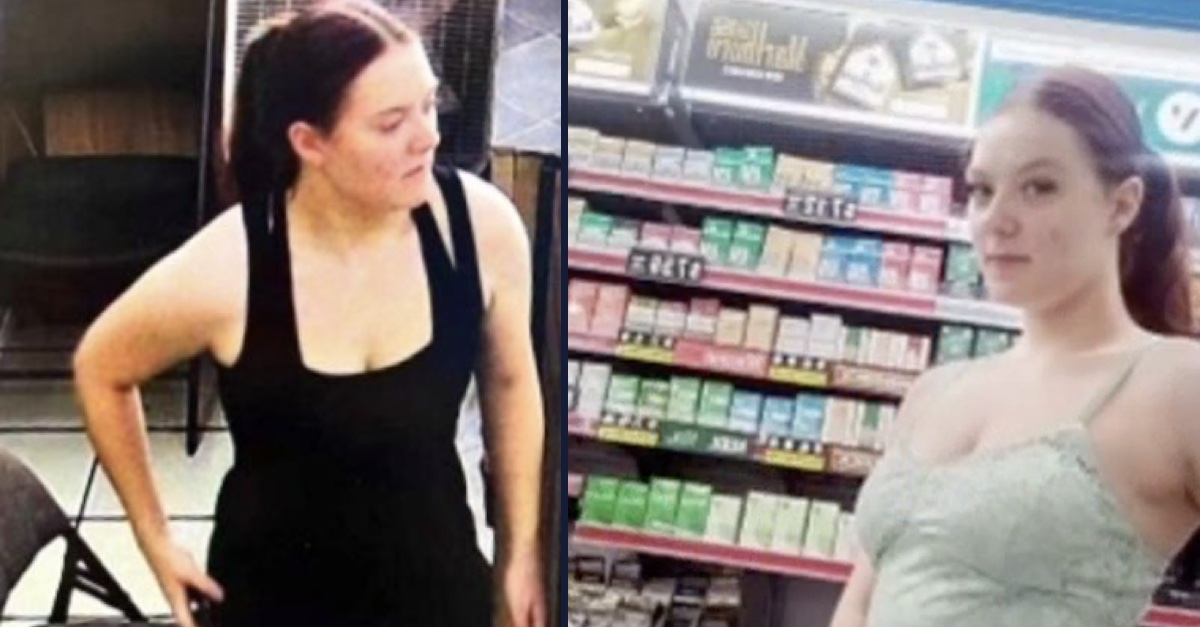 (L) Avriel Hooks (as pictured in Lynchburg Police Department's missing person poster), (R) in a family photo.
Hooks' mother Ashley Pittman told local ABC affiliate WSET that the day the family reported Hooks missing she received a text at 6 a.m. from her daughter's phone claiming she was at a friend's house for some "me time." Pittman said the text was not something her daughter would send.
On Aug. 29, six days after Hooks was reported missing, police tracked down Perry and "questioned" him, referring to him at the time only as a person of interest. Later on in the day, investigators with the Amherst County Sheriff's Office found Avriel Hooks' body in a wooded area in Amherst off of U.S. 60.
Perry was then arrested on charges of second-degree murder and unlawful disposal of a dead body, charges that still have him behind bars without bond in the Amherst County Adult Detention Center.
Other charges listed in jail records include two counts for being a convicted felon in possession of a firearm (in cases dating back to August 2022 and August 2020) and a count for violating the conditions of his pretrial release.
The lattermost charge lists the date of offense as Aug. 29, 2023, the day Avriel Hooks was found dead. Warrants reveal more about what led to the charge.
Court documents filed on Aug. 30 detailed that Perry was under pretrial supervision as of July 10 in a theft and emergency protective order violation case in which Hooks was the victim.
"The victim of the new charges is the same victim for which he is on supervision," the documents said. "Obtaining new charges and having contact with Avriel Hooks are violations of his current Pretrial release conditions."
A handwritten note on the document from Sept. 1 said: "Please [issue] a capias" — a bench warrant revoking Perry's bond — for the defendant's "failure to be of good behavior."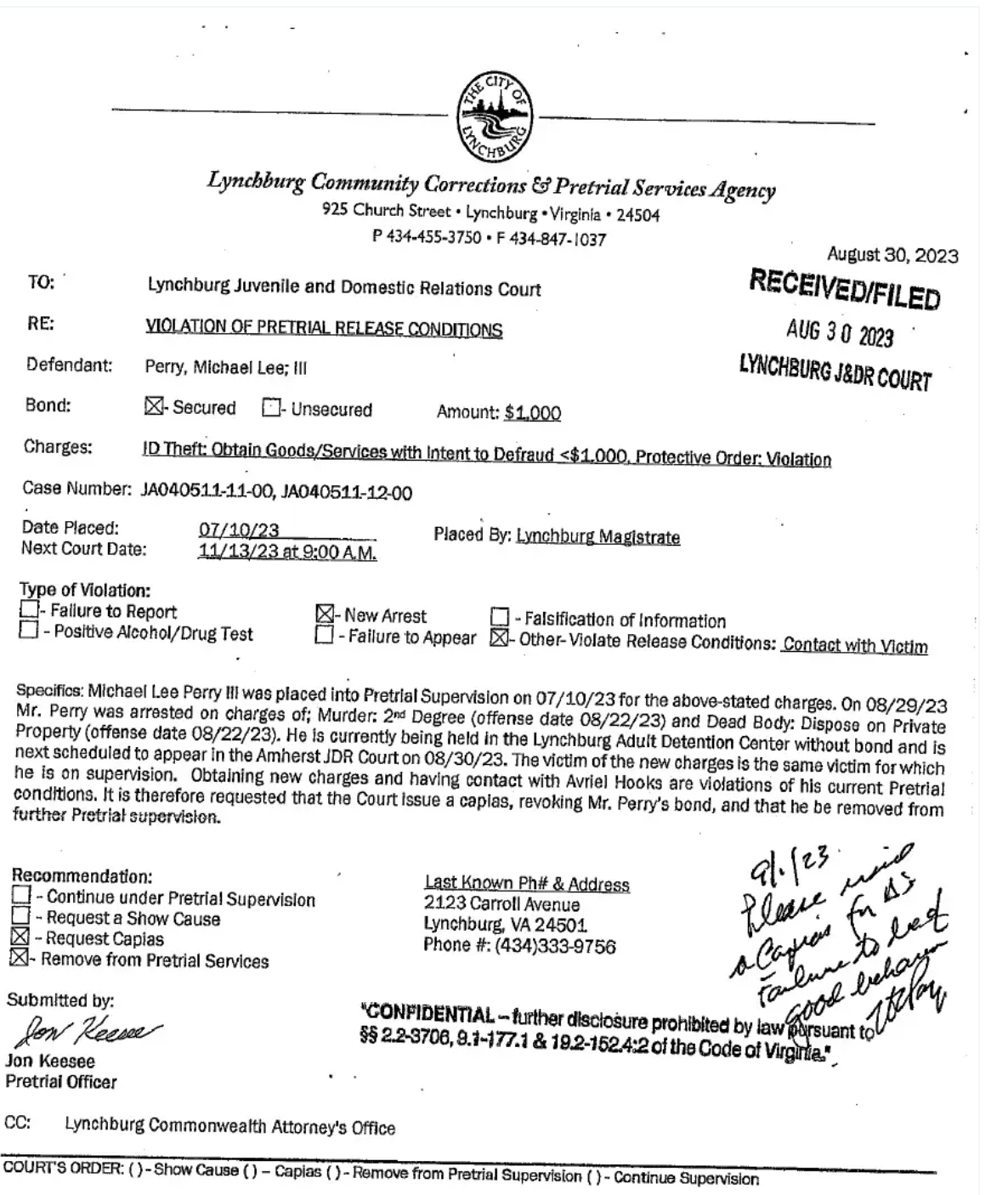 Perry on July 9 had signed a document confirming that he understood he "may be ARRESTED" and "bail may be revoked" if he did not abide by the conditions of his pretrial release.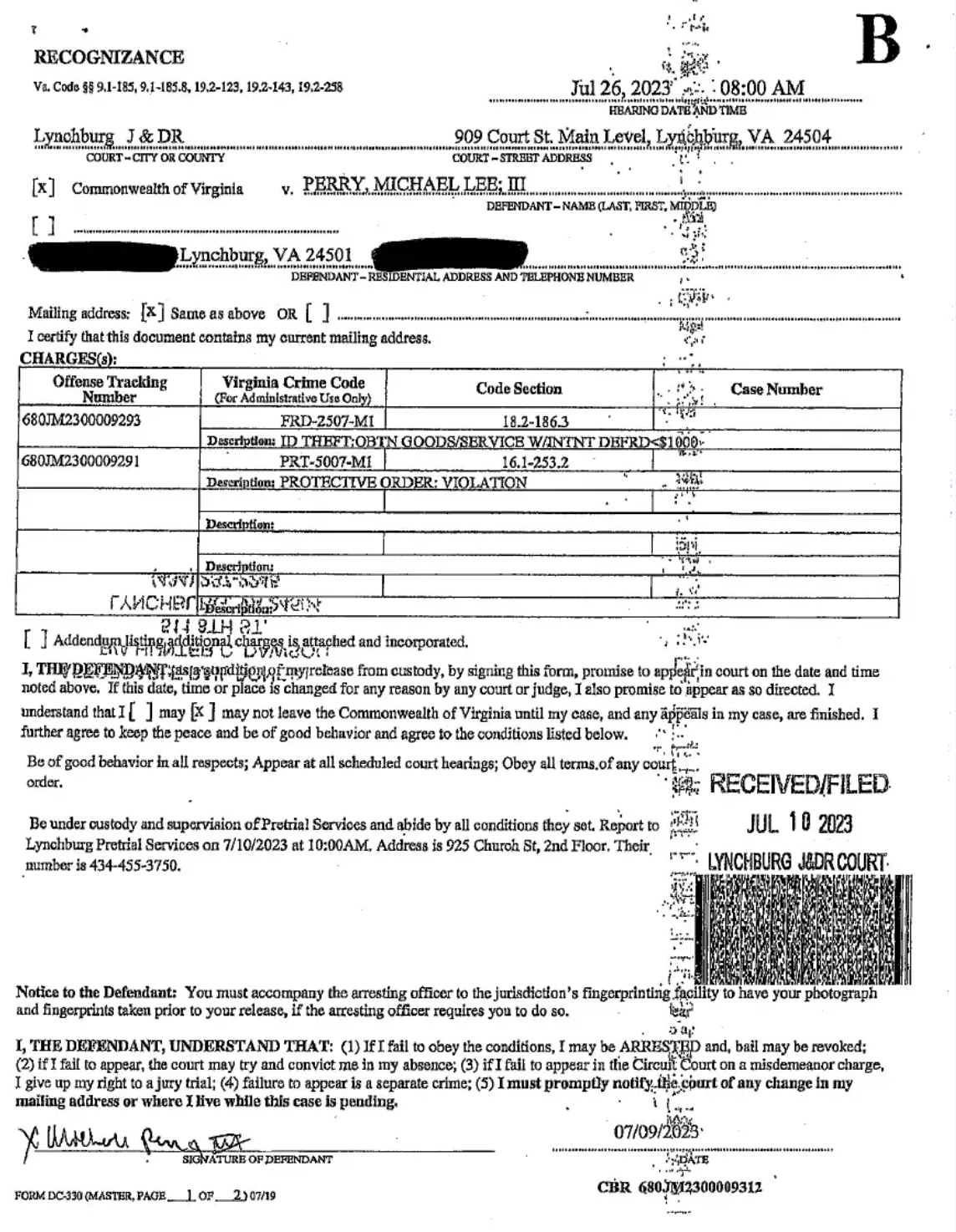 WSET's report on the warrants included additional details from Hooks' mother about the origins of the protective order.
Ashley Pittman said her daughter filed for the protective order on July 4 but that Perry stole Hooks' credit card on July 7 when she tried to extend the order.
The protective order lapsed and Perry was allowed to bond out ahead of trial on July 10, the report said.
The next month, while under pretrial supervision, he allegedly murdered Hooks.
Have a tip we should know? [email protected]