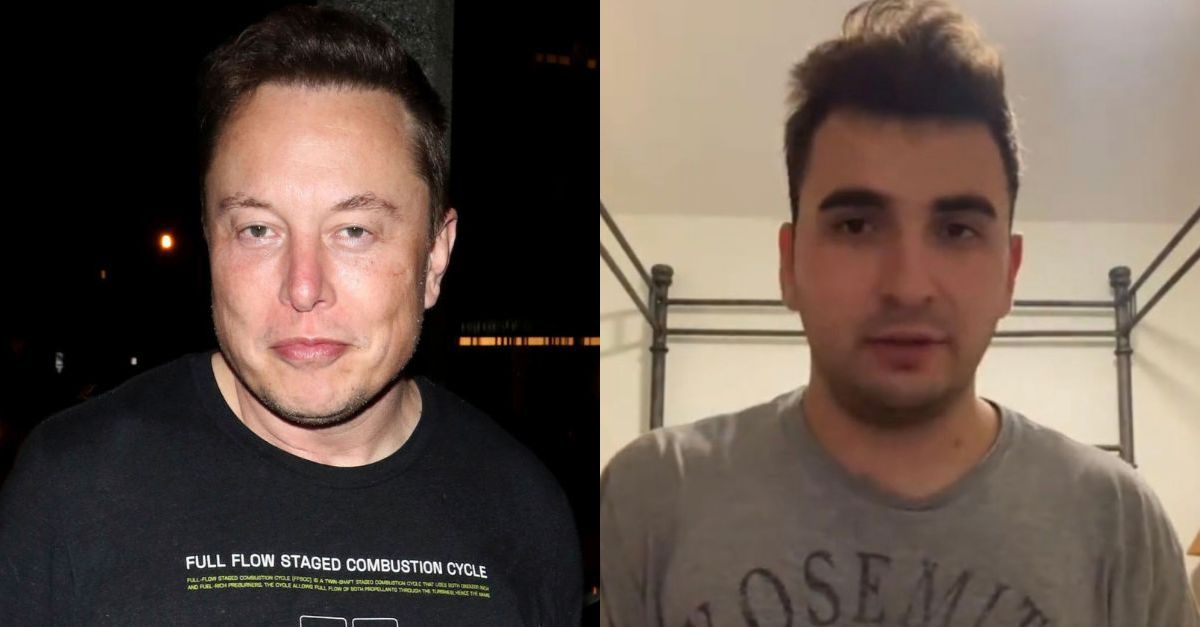 Elon Musk (File Photo by: zz/Wil R/STAR MAX/IPx 2020 9/25/20), left, and Ben Brody (Travis County District Court filing).
Eccentric billionaire and regular promulgator of right-wing conspiracy theories Elon Musk is the target of a new defamation lawsuit alleging that the owner of X — the social media platform previously known as Twitter — falsely accused a man of being a federal agent posing as a member of a neo-Nazi group.
The lawsuit was filed on Monday in the District Court of Travis County, Texas, by attorney Mark Bankston, who successfully represented the parents of a child killed in the Sandy Hook massacre against Infowars owner and conspiracy theorist Alex Jones. Bankston is representing 22-year-old Ben Brody, a recent college graduate who alleges that he and his family were forced to flee from their California home due to harassment sparked by Musk's online claims.
"In yet another example of Elon Musk's serial pattern of slander, he falsely told the world that Ben Brody participated in a violent street brawl on behalf of a neo-Nazi extremist group," the complaint states. "Musk also falsely stated that that Ben Brody's alleged participation in the extremist brawl meant the incident was probably a 'False Flag' operation to deceive the American public. Musk made these ridiculously false and damaging accusations based on a tweet he had seen from an anonymous far-right extremist Twitter account."
According to the suit, the controversy stemmed from an altercation that took place during Portland, Oregon's "Pride Night" event on June 24. At some point, two right-wing extremist groups there to disrupt the evening got into a "street brawl" with each other, resulting in two members of the Rose City Nationalists, a white supremacist organization, having their masks pulled off and exposing their faces, the suit states.
Video of the brawl went viral, and several right-wing social media users with large followings posted screenshots of the unmasked men along with a photo of Brody posted by his Jewish college fraternity, indicating that Brody was one of the men involved in the fight. Several posts highlighted that Brody's fraternity said that after graduation "he plans to work for the government."
The suit states that Brody has evidence showing he was not even in the state of Oregon at the time of the Pride event.
Despite only a passing resemblance to the unmasked brawler, many on social media, including Musk, then began to assert that Brody was likely part of a "false flag" operation, saying it was important to "always remove their masks."
"Musk made these ridiculously false and damaging accusations based on a tweet he had seen from an anonymous far-right extremist Twitter account," the lawsuit alleges. "After amplifying the claim for two days, Musk personally leveled these accusations against Ben Brody, and it has led to severe personal harassment and permanent damage to his reputation."
The suit further claims that after Musk spent days "amplifying" the false claims against Brody, he committed defamation in a reply to a tweet from the "notoriously unreliable" ZeroHedge. The ZeroHedge article linked to a Twitter post which identified Brody as "one of the two FEDS" from the street brawl and contained his name and photograph.
"Musk decided to reply to the ZeroHedge tweet, and he added his own accusation, which was based on false information which he had encountered from unvetted tweets in the days prior," the suit states. "In a tweet posted at 8:22 am, Musk stated, 'Looks like one is a college student (who wants to join the govt) and another is maybe an Antifa member, but nonetheless a probable false-flag situation.'"
The result of Musk's amplification of the alleged false accusations that Brody was one of the men involved in the brawl and the subsequent threats and abuse left the recent college graduate "depressed, freaked out, and mentally distraught," Bankston said in a statement following the suit being filed.
"Ben's lawsuit discusses the aftermath of this incident, but in short, Ben and his family were doxed and suffered an enormous wave of harassment and threats from belligerent strangers. Being defamed by someone as famous as Musk was an utterly terrifying experience, and it has left Ben stunned, disoriented, and worried about the consequences on his future," he wrote in an extensive series of posts on X. "Even apart from the damage to his reputation, Ben and his family were put through weeks of terror due to Musk's recklessness, and now Ben finds himself depressed, freaked out, and mentally distraught at the crucial moment when he exits college and enters his career path."
Bankston previously won $49 million in damages from Alex Jones over his claims that the 2012 school shooting in Sandy Hook, Connecticut, in which 20 young children and six adults were gunned down, never really happened.
Have a tip we should know? [email protected]