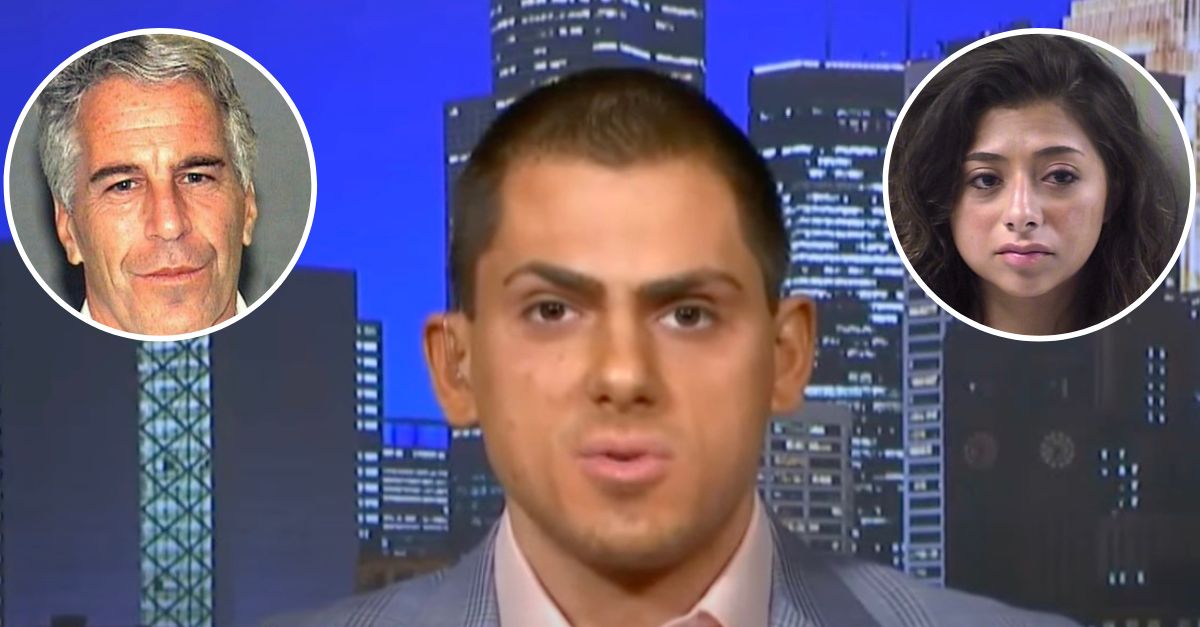 Anton Lazzaro (YouTube screenshot), Gisela Castro Medina and Jeffrey Epstein (DOJ)
A onetime prominent Republican political donor in Minnesota will spend decades behind bars for "orchestrating a sex trafficking conspiracy" involving juvenile girls. U.S. District Court Judge Patrick J. Schiltz on Wednesday ordered 32-year-old Anton Lazzaro to serve a sentence of 21 years in a federal penitentiary for running what he referred to as a "sex trafficking assembly line," authorities announced.
A federal jury in Minnesota's U.S. District Court in March convicted the now-disgraced Lazzaro on one count of conspiracy to commit sex trafficking of minors and five counts of sex trafficking of minors. His co-defendant in the case, 21-year-old Gisela Castro Medina, who was the leader of a collegiate GOP chapter in the state, pleaded guilty in December 2022 to one count of conspiracy to commit sex trafficking of minors and one count of obstruction.
Schiltz used Wednesday's sentencing hearing to castigate Lazzaro for his appalling crimes, even going so far as to compare him with one of the most infamous accused sex traffickers in American history: Jeffrey Epstein.
According to a press release from the Department of Justice, Schiltz commented on the "soulless, mechanical nature of Mr. Lazzaro's crimes, like a sex trafficking assembly line," and emphasized that the only two people Lazzaro showed any remorse for were "himself and Jeffrey Epstein, who Mr. Lazzaro called 'his brother.'"
Prosecutors at trial proved that from May 2020 through December 2020, Lazzaro and Medina conspired to recruit 15-year-old and 16-year-old girls to have sex with him in exchange for cash and other items of value. Lazzaro met Medina in May 2020 through the website "Seeking Arrangements," which is known as a "sugar daddy" site where wealthy men pay for the company of young women.
Prosecutors said Lazzaro directed Medina to identify girls she knew and others she could find via social media whom she believed "would have sex with him for money."
"Lazzaro specified that he was looking for young girls of a certain skin color, petite body type, and those who were considered vulnerable, referring to them as 'broken girls,'" the release states. "Medina would show Lazzaro photographs of minor girls and if Lazzaro 'approved' Castro Medina would provide the minor's contact information to Lazzaro. Castro Medina told the minors that Lazzaro was an older guy with a lot of money, and that he wanted to be a sugar daddy to younger girls"
Medina made more than $50,000 during her tenure working for Lazzaro, the DOJ said.
Lazzaro would then send rideshare cars to pickup the minor girls and bring them to his condo in Minneapolis — at least once picking up "a group of 14-and 15-year-old girls from a slumber party" and having them come to his home.  When the minor girls arrived at his condo, Lazzaro would "give them alcohol, flash stacks of cash, and offer the girls precise sums of money to perform various sex acts," per the release. He would then send the minor girls home with cash, vapes, alcohol, Plan B, cellphones, and other valuable gifts.
"Mr. Lazzaro targeted, manipulated, and sexually exploited young and vulnerable girls for his own gain without regard for their age or safety," Special Agent in Charge Alvin M. Winston Sr. said in a statement following the sentencing. "Today's sentencing sends a strong message that those who commit such heinous crimes will be held accountable. The FBI prioritizes crimes of victimization and will leave no stone unturned to protect the vulnerable and bring every perpetrator to justice."
Medina is scheduled to be sentenced on Sept. 5.
Have a tip we should know? [email protected]