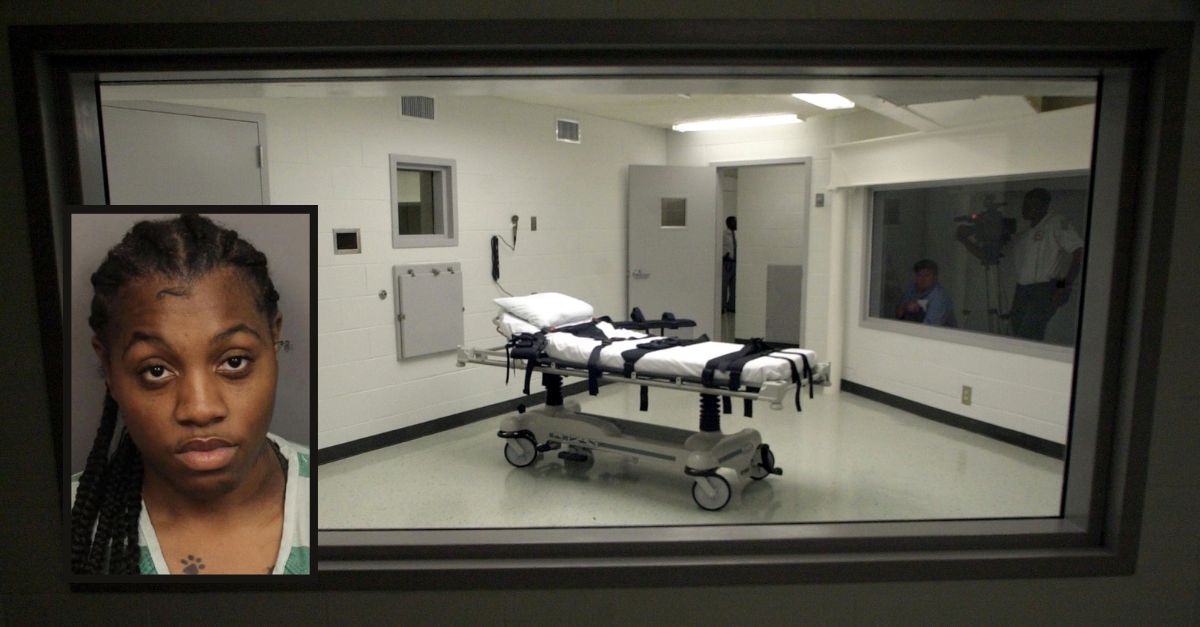 Background: Alabama's lethal injection chamber at the Holman Correctional Facility in Atmore, Ala., is pictured, Oct. 7, 2002. (AP Photo/Dave Martin, File). Inset: Chelsie Jones booking photo from Jefferson County (Ala.) Sheriff's Office.
A 29-year-old woman accused of murdering the father of her young children in front of them after a domestic dispute should be put to death, according to prosecutors in Alabama.
Birmingham resident Chelsie Jones was charged with capital murder in March 2021 after local police said she shot and killed her 22-year-old longtime boyfriend, Montrell Fredrickgus Holloway, inside of her home. A grand jury indicted her that September.
The couple's young children were present during the slaying, prompting the Jefferson County District Attorney's Office to pursue the capital charge.
The district attorney did not immediately respond to a request for comment to Law&Crime on Tuesday, though publicly available court records viewed online confirm the death penalty enhancement on her charge was sought Monday.
Jones' case is before Jefferson County Circuit Court Judge Kandice Pickett and she is represented by defense attorney Anthony Emory. In an email on Tuesday, Emory told Law&Crime that no trial date has been set.
The Birmingham Police Department first reported responding to Jones' home on March 21, 2021, at 6:14 p.m.
When they arrived, Holloway was found unresponsive in a hallway and pronounced dead on the scene by local authorities. In a statement when the investigation was first opened, police described Jones' motive for the murder as "domestic in nature."
Court records indicate Jones did not have a prior criminal record.
According to AL.com, Jones was initially deemed incompetent to stand trial but was restored after undergoing mental health treatment. Jones remains in custody and is being held without bond as she awaits trial.
It is unclear when she is due in court next and who, for the moment, has retained custody over the children who prosecutors say witnessed the death.
In 2023, according to the Death Penalty Center, there have so far been 23 prisoners executed across five states. In Alabama, only five of the 167 people on death row in the state are women, the organization says. Executions were temporarily paused there by Governor Kay Ivey after a series of "botched" executions occurred. They were resumed this summer, according to Forbes. The state may be the first to carry out executions using nitrogen gas, the first new execution method since lethal injection was introduced in the 1970s, the Associate Press reported.
Have a tip we should know? [email protected]