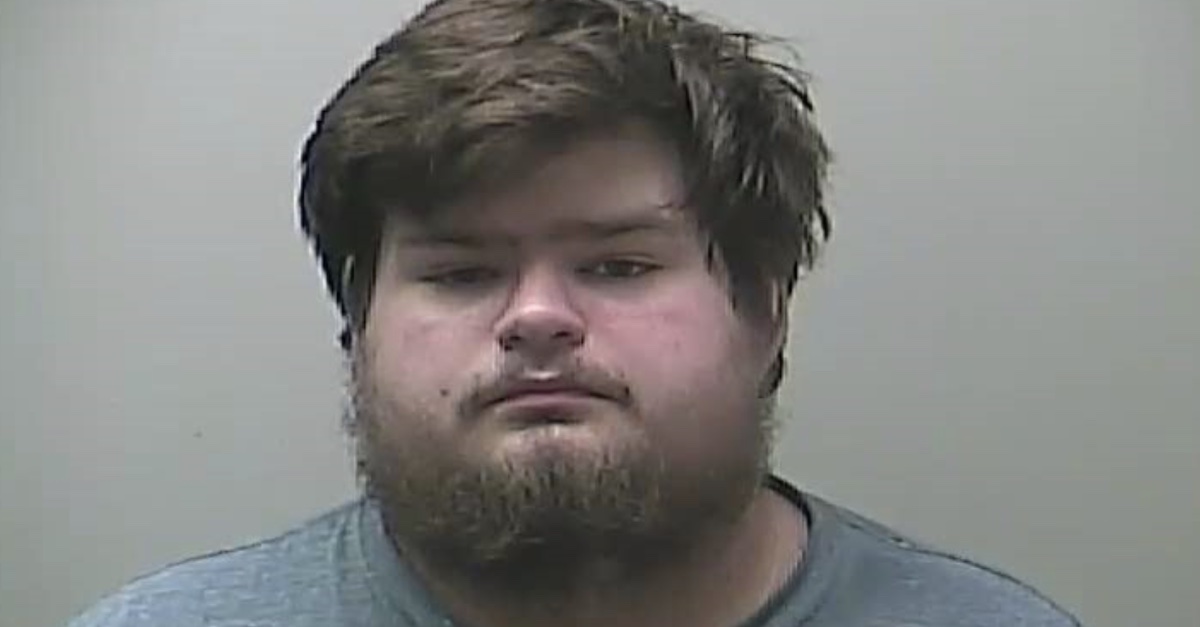 Alex Marsh (Midland County Jail)
A 20-year-old father in Michigan accused of murdering his 6-month-old daughter after the child cried while he was playing video games has pleaded no contest.
Records in the 42nd Circuit Court of Midland County reviewed by Law&Crime show that Alex Lewis Marsh pleaded no contest to second-degree murder last Thursday, Sept. 21. As a result, first-degree child abuse and first-degree murder charges were not prosecuted.
According to an affidavit in support of a criminal complaint dating back to June 2022, cops with the Midland Police Department on the morning of May 18, 2022, responded to the residence where Scarlett Marie Marsh was found dead.
Investigators established that the infant's mother was at work at the defendant was watching the baby from the evening of May 17, 2022, to the early morning the next day.
"EMS pronounced Scarlett deceased on scene and estimated Scarlett to have been deceased for 'a while. EMS also noted that there was blood in the baby crib that appeared unusual," the affidavit said. "Scarlett was found deceased laying on her back in the bedroom. Dried red blood like liquid could be seen inside of the baby crib and under Scarlett's nostrils."
According to cops, the suspect, when questioned, claimed he dropped off the baby's mother at work, returned home with the child, and said Scarlett went to bed at 10:30 p.m. on May 17, 2022.
More Law&Crime coverage: Stepdad went to 'play video games' after 'forced immersion' of 4-year-old in 140-degree tub left child covered in third-degree burns
The defendant allegedly said he got up two hours later, now the next day, to rock the baby back to sleep. Marsh said he checked on the baby again an hour and half later and saw that she was "fine," cops said.
At 6 a.m. that morning, Marsh admittedly left the residence without checking on the baby and without taking Scarlett with him to pick up the child's mother from work.
"Alex advised upon arrival back to the apartment with [the baby's mother], they found Scarlett to be in the crib deceased," the affidavit said.
Scarlett's mother told police she yelled at the defendant when he didn't bring the baby with him to pick her up at work, cops said.
A subsequent autopsy did not find "external injuries" but did find "fixed lividity on the right side of [Scarlett's] body (face and side) and on her back."
Investigators determined that the baby was "moved some time after her death" and that the victim had blood in her chest cavity.
The defendant, in a follow-up interview with police, allegedly admitted he lied about checking on Scarlett after 6:30 p.m. the day the baby died.
"Alex then admitted Scarlett was crying and that he threw a large gray blanket (adult sized/ heavy blanket ) over top of Scarlett in her crib" and over Scarlett's "entire body," the affidavit said.
The defendant allegedly admitted he moved the blanket out of the crib before cops arrived at the scene. Cops concluded, and prosecutors alleged, that Alex Marsh was playing video games when Scarlett died of asphyxiation in her crib.
During a 2022 court appearance, Midland County Chief Assistant Prosecutor Atea Duso reportedly said the defendant cared more about playing video games than caring for his daughter.
"He was hesitant to play with her," Duso said, according to the Midland Daily News. "He didn't like to use the baby monitor, it annoyed him. He wanted to play video games."
Second-degree murder in Michigan is punishable by "life, or any term of years, in the discretion of the court trying the same." Court records do not currently show a sentencing date.
Law&Crime reached out to Marsh's attorney of record for comment.
Have a tip we should know? [email protected]