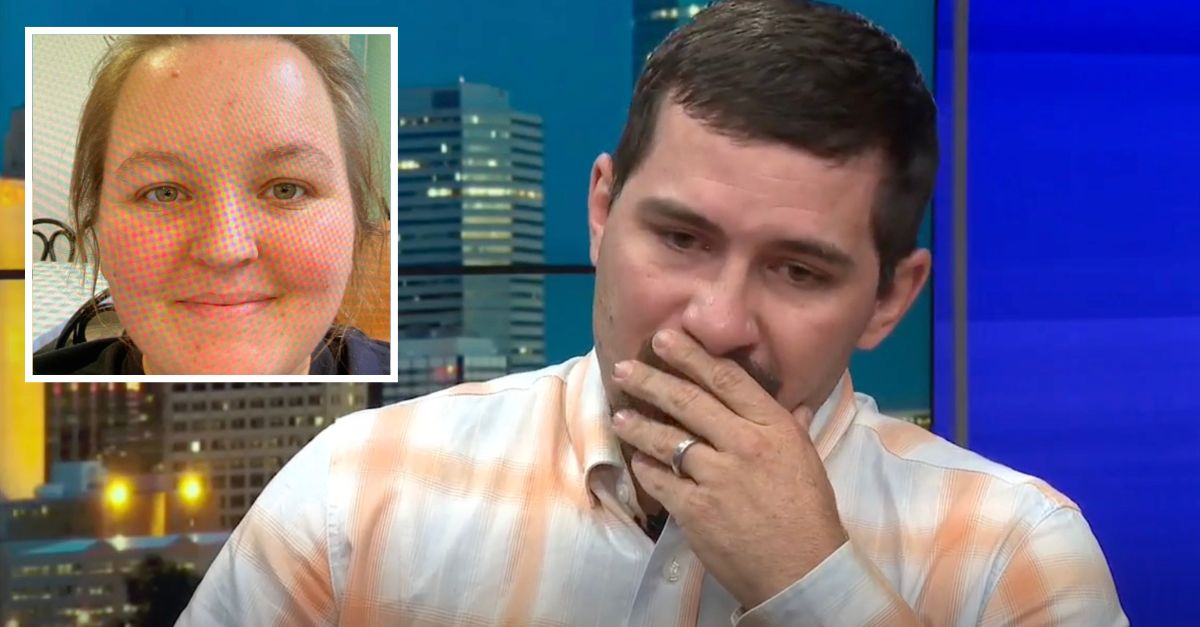 Frank Alan Cole Byers (YouTube/KOKH screenshot) and Makayla Fay Meave (Pottawatomie County (Okla.) Sheriff's Office)
A 32-year-old man in Oklahoma was arrested more than a month after he allegedly killed his 30-year-old wife, fatally shooting her in the head before wrapping her body in a borrowed carpet and tossing her into a ditch near their home.
Frank Alan Cole Byers was taken into custody charged with one count each of first-degree murder, unauthorized removal of a dead body, and desecration of a human corpse in connection with the death of Makayla Fay Meave, authorities announced.
According to a Facebook post from the Pottawatomie County Sheriff's Office, deputies in conjunction with the El Reno Police Department arrested Byers just before 1:15 a.m. Wednesday morning on the aforementioned charges, all of which are "concerning the death of Makayla Fay Meave."
Meave was last seen alive at about 5:30 p.m. on Sept. 15, 2023, at her home in Macomb, which is about 40 miles southeast of Oklahoma City, authorities wrote in a missing persons release on Sept. 16. The kindergarten teacher's aide was said to be wearing "a Macomb Public School t-shirt, and blue jeans shorts, and was carrying a multicolor quilted pattern backpack."
The T-shirt was emblazoned with the words, "It's a great day to be a Hornet," according to the sheriff's office.
"It is reported she allegedly left voluntarily in a white Chevy extended cab pickup with tinted windows," the missing persons release stated. "The driver was a tall male balding with a dark-colored beard."
Unfortunately, authorities on Sept. 20 located the body of an adult female found wrapped up in a carpet and tossed in a drainage ditch just south of Oklahoma Highway 59B and Hamilton Road — about 2,000 feet from the couple's home, Oklahoma City NBC affiliate KFOR reported. The county medical examiner positively identified the body as Meave on Sept. 22 and confirmed that she had been shot twice in the head.
Investigators spent weeks collecting evidence before developing probable cause to arrest Byers for allegedly killing his wife.
"We got some results back on some evidence we had been waiting for," Pottawatomie County Undersheriff Travis Dinwiddie reportedly told KFOR. "We executed the search warrant on the house. Frank Byers was inside, and he was taken into custody for a probable cause affidavit for first degree murder."
The evidence recovered while executing the search warrant reportedly included work boots that had a "blood-like substance on them" that tested positive for Meave's DNA.
In an interview with Oklahoma City Fox affiliate KOKH after his wife went missing, Byers told the station that he and Meave had an open marriage because she "wanted to experiment." He claimed the development made him "upset," but said he agreed because he "didn't want to lose her."
He also claimed that on the night she went missing, Meave went out on a date with another man whom he did not know.
"She told me right before she left that it is none of my business where she goes or who she sees," Byers reportedly told the station.
He concluded the interview by saying through tears that his wife's disappearance had been "pure hell" for him.
"I am constantly worried about her, messaging her and texting her. Even today, I called her," he said. "She's not here but it's just the fact that I have her number and her phone is on somewhere and it would be nice to hear her voice."
Meave's family reportedly told the station that Byers' claims about being in an open marriage and Meave going on a date with another man were false. Meave's mother told KFOR that she suspected Byers had something to do with her daughter's disappearance almost immediately.
"There was no concern, no sorrow, no tears. It was all just a show, and we could see it," she said, adding. "I can forgive him through Christ, but I am still flesh and I want the death penalty for him and anyone else that helped him."
Byers is scheduled to appear in court again on Nov. 8.
Have a tip we should know? [email protected]