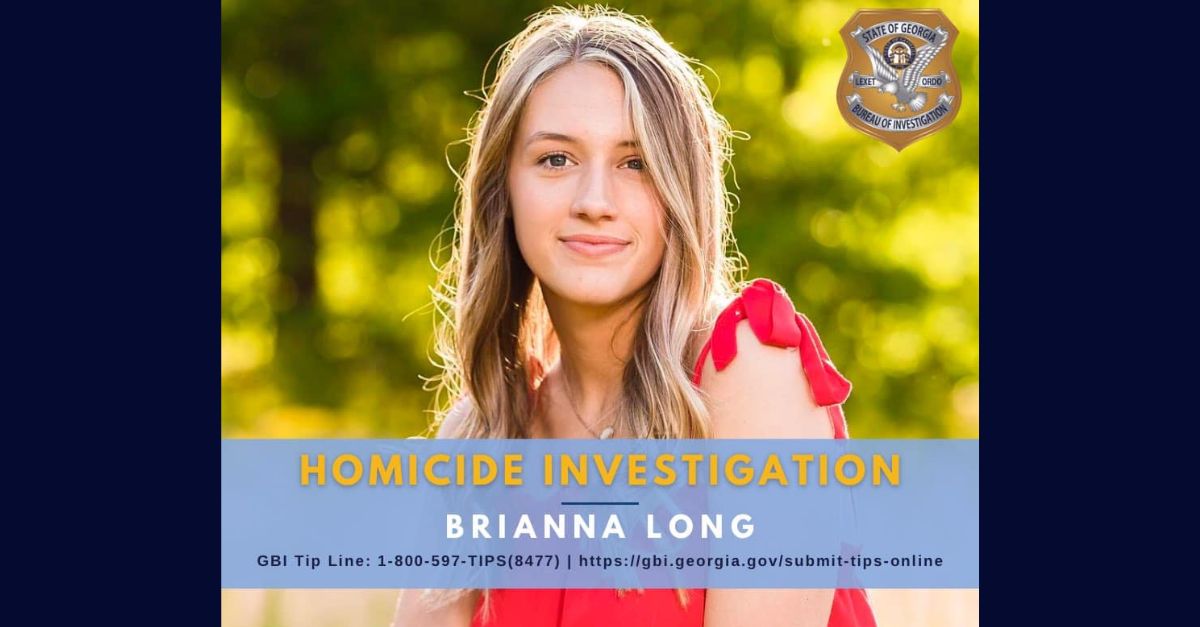 Brianna Long, 21, was shot and killed around 2:30 a.m. Oct. 28, 2023, after an altercation outside The Pier Bar in Remerton, Georgia, near Valdosta, led to someone firing several shots. The bullets entered the bar, hitting Long, who was pronounced dead at a hospital. Anyone with information is asked to call the GBI Thomasville Office at 229-225-4090, or Remerton Police Department at 229-247-2320. (Georgia Bureau of Investigation)
Police are looking for the person who fired several shots outside a Georgia bar that led to the death of an innocent bartender who was just trying to do her job.
Brianna "Bri" Long, 21, and a few other co-workers were cleaning up at The Pier Bar in Remerton, which is just outside Valdosta, around 2:30 a.m. on Saturday when someone outside the bar opened fire during an altercation. Bullets entered the bar, hitting Long, according to the Georgia Bureau of Investigation. She was taken to the hospital where she died.
GBI said in a press release that the bar closed at 2 a.m. Employees were cleaning up for the night, along with a few of their friends who remained inside the bar.
"This shooting was senseless and believed to have stemmed from some type of altercation that took place outside The Pier," the press release said. "Regardless, an innocent person was killed due to someone else's careless actions."
Several vehicles in the bar parking lot were also shot up, GBI said.
In addition to her job as a bartender, Long was a fourth-year dental hygiene major at Valdosta State University and was from Dallas, Georgia. She was completing her final clinical courses on the campus of Wiregrass Georgia Technical College, the school said in a statement.
"Our hearts are broken over the senseless loss of Brianna Long. The death of a student affects the entire VSU community, and every member of our Blazer Nation family sends the deepest expressions of sympathy to Brianna's family and friends as they process this devastating loss," the school said.
The bar posted a tribute to Long on Instagram, calling her a "beautiful soul" and describing the shooting as "incredibly devastating."
"If you knew Bri, you loved her. Her kindness and love radiated onto to everyone who had the opportunity to meet her, know her, and love her. The impact she left on people and her community is what makes this so hard, yet so memorable," the tribute said.
Long graduated from Paulding County High School outside of Marietta where she played soccer. She was selected as a 2019-2020 Regional Winner for Positive Athlete, according to the school.
"There were over 5000 student athletes nominated for this award and Brianna was chosen!! We are extremely proud of Brianna and excited that she is a PC Patriot!!!," a post on the school's website said.
From GBI:
This case is active and ongoing and anyone with information on this case is asked to call the GBI Thomasville Office at 229-225-4090, or Remerton Police Department at 229-247-2320. Anonymous tips can also be submitted by calling 1-800-597-TIPS (8477), online at https://gbi.georgia.gov/submit-tips-online, or by downloading the See Something, Send Something mobile app.
Have a tip we should know? [email protected]