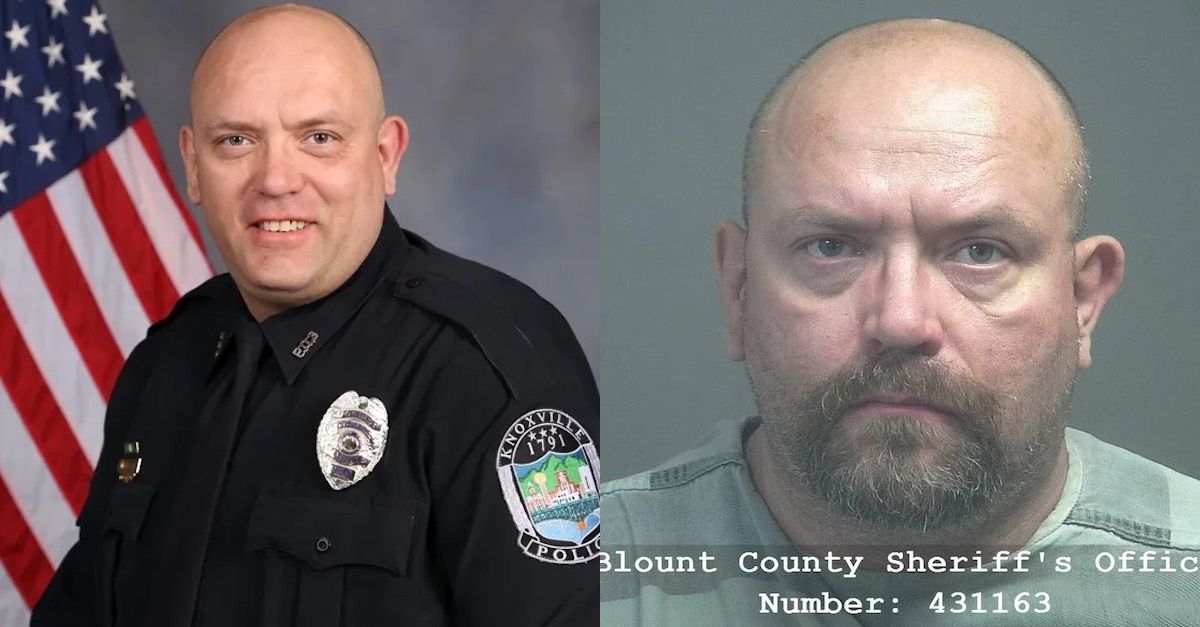 Dan Roark (Knoxville Police Dept. and the Blount County Sheriff's Office)
A 47-year-old police officer in Tennessee was arrested this week after phone records allegedly revealed that he had been requesting child sexual abuse material (CSAM) from a mother in Virginia who sent him illicit photos and videos of her juvenile daughter. Dan Roark, an officer with the Knoxville Police Department since 2007, was taken into custody on Monday and charged with one count of production of child pornography, authorities announced.
According to a criminal complaint filed in the U.S. District Court for the Eastern District of Tennessee and obtained by Law&Crime, an anonymous tipster contacted the Scott County, Virginia, sheriff's department regarding a child who was sending CSAM to another internet user. A detective reached out to the child's mother, who voluntarily provided the phone to investigators for a forensic examination.
Law&Crime is not reporting the mother's name to protect the identity of the victim.
Authorities then discovered text messages between the number associated with the child's phone and another number with a Tennessee area code that consistently requested CSAM. A search warrant was executed for the subscriber information which revealed that the Tennessee number traced back to Roark.
SCSO detectives reached out to the Tennessee Bureau of Investigation and the U.S. Homeland Security Investigations for assistance in the case.
The subsequent investigation revealed that Roark and the victim's mother had allegedly been communicating from at least July 2023 to October 2023. Records of text messages supposedly sent between Roark and the victim's mother showed Roark allegedly coaxing the mother to take illegal photos and videos of her juvenile daughter in August 2023.
The victim's mother was taken into custody on Saturday, Nov. 4 on charges of producing child pornography and other crimes against children. In a post-Miranda interview with police, she told investigators she and Roark first met on Yahoo in 2007.
"At some point during the relationship, ROARK requested [the mother] take CSAM pictures of her now ten (10) year old daughter. Evidence shows that these images were produced as early as age five (5) or six (6)," the criminal complaint states. "[The mother] indicated ROARK paid her various sums of money for the images."
A spokesperson for Knoxville Chief of Police Paul Noel sent the following statement to news outlets:
"The allegations against Dan Roark are deeply disturbing and abhorrent. His alleged actions shock the conscience and, if proven true, demonstrate monstrous behavior against a truly innocent victim. I am sickened by these accusations, which in and of themselves have brought immeasurable discredit on our agency and the entire law enforcement profession.
"We have and will continue to cooperate fully with federal investigators. We will also act with great urgency to resolve this matter and repair the damage done to public trust in the wake of these disturbing allegations," the statement said.
Roark has a detention hearing set for Nov. 9 and a preliminary hearing scheduled for Nov. 16, court records show.
Have a tip we should know? [email protected]