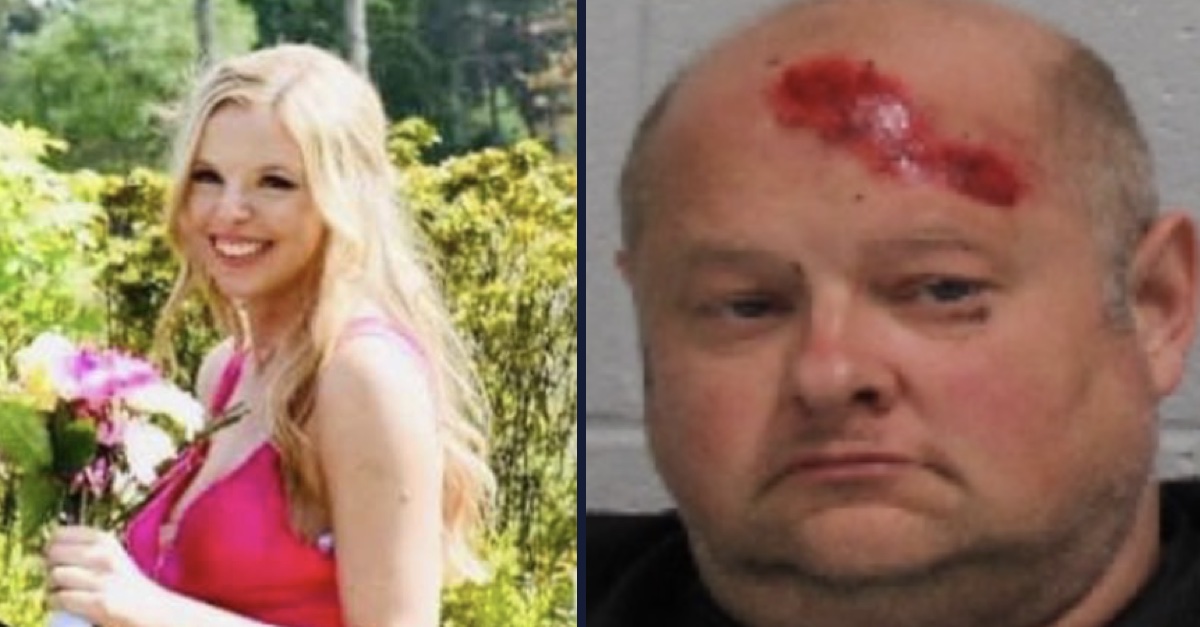 Anna Jones in a photo shared with the media by a friend (@MadelineTV/CBS 46), Richard Sigman (Carroll County Jail)
A fired college professor pleaded guilty and was sentenced on Monday for fatally shooting a student sitting in a parked vehicle. Prosecutors in Carroll County, Georgia, said that the defendant, Richard Sigman, 49, had no prior connection to the victim, Anna Lynn Jones, 18. They said the crime happened "randomly and inexplicably."
Sigman, who was fired from the University of West Georgia because of the incident, pleaded guilty to malice murder, three counts of aggravated assault, and three counts of possession of a firearm during commission of a felony.
He was ordered to serve a life sentence plus 55 years and will be eligible for parole after 30 years behind bars. Prosecutors note that means that Sigman, who was 47 at the time of the murder, will be 77 before he has a chance at freedom.
According to authorities, Sigman on July 30, 2022, became extremely drunk and got into an argument with a man at Leopoldo's Pizza Napoletana, a bar and restaurant. He threatened to shoot this person, so security, seeing the defendant armed, kicked him out, they said.
A lawsuit from Jones' mother characterized Sigman as "a belligerent drunk who liked to pick fights with others."
Even authorities don't know why Sigman did what he did next.
"For reasons that are not clear from the evidence, shortly after midnight, Sigman stumbled into the lower level of the courthouse parking deck, drew his firearm, and walked up to the parked vehicle occupied by the three female victims, all of whom were college students," they wrote. "Sigman approached the passenger side of the vehicle and banged on the window while brandishing his handgun. The victims were naturally terrified and began to back out of the parking space to escape from Sigman. As they reversed out of the parking space, Sigman fired three rounds, striking the front seat passenger in the head and killing her."
Jones had graduated from the local Mount Zion High School and was days from starting classes at UWG.
Cops responded, finding Sigman on the ground of the parking lot next to his gun.
According to authorities, he claimed to have fired in self-defense after someone shot at him, but security footage contradicted his story.
"His actions were legally unjustified, senseless, and incomprehensible," said prosecutors. Neither Sigman nor the girls had seen each other before or had any prior connection.
Have a tip we should know? [email protected]