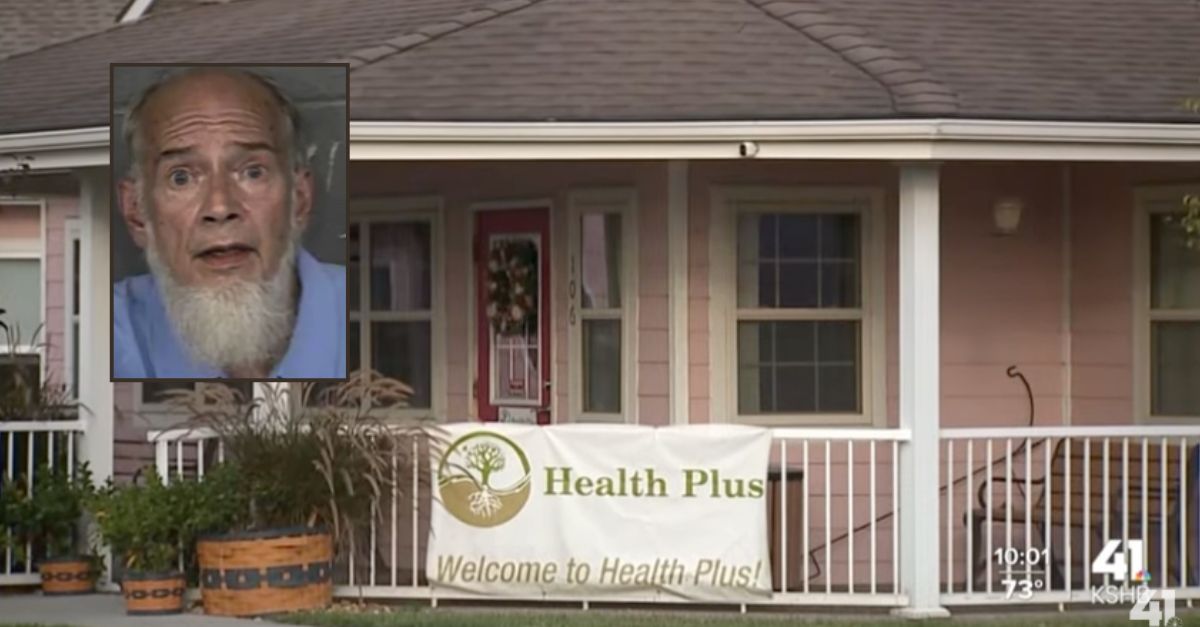 Background: the location of the clinic where chiropractor David B. Clark allegedly sexually abused multiple victims for decades (via YouTube screengrab/KSHB). Inset: David B. Clark booking photo (Jackson County (Mo.) Sheriff's Office via KSHB).
A man who provided chiropractic services for decades in Missouri has allegedly spent decades sexually assaulting and abusing unsuspecting women, many of them members of the Amish community.
David B. Clark, 70, ran the Health Plus clinic in Oak Grove, some 27 miles east of Kansas City. According to a probable cause affidavit reviewed by Law&Crime, Clark "used his position as a chiropractor and proclaimed naturopath to make or attempt to make his victims believe that the sexual abuse he inflicted on them was medically necessary."
Among the dozens of victims, the affidavit says, four were minor female patients, and one was a woman.
According to investigators, Clark specifically targeted Amish women and girls.
"Clark frequently targeted victims who were Amish and thus unlikely to have much, if any, experience with obstetricians/gynecologists or any type of modern medical care," the affidavit says, noting that for many of the victims, Clark was their "first interaction with medical personnel of any type." For others, Clark was considered their primary "physician."
"Clark used his self-proclaimed title of Naturopath who offered multiple holistic treatments which the Amish are drawn to, to entice victims from across the country to travel to Health Plus for appointments," the affidavit says. While some victims didn't return, "many of his victims continued" to see him, sometimes for years, "before realizing that his examinations were medically unnecessary, and sexually abusive."
Much of his alleged abuse consisted of "[stimulating] victims' clitorises during the course of conducting pelvic treatments, or visceral manipulation, the term used by Clark at his clinic," the affidavit says.
He also allegedly "conducted excessively long breast exams on multiple victims." One victim told investigators that Clark "seemed like he 'enjoyed it,'" according to the probable cause affidavit.
In most instances, Clark would make sure that "no one else was in the room with Clark and the victim, but at other times, a spouse or a family member was present in the room as well."
The affidavit says that a search of Clark's computer revealed a "letter" that was "written from the perspective of a father" who was sexually abusing his female child.
The offenses allegedly took place from 1999 to 2021, according to online court records.
He faces six felony charges of sexual abuse and sodomy.
According to the case docket, Clark was released after posting $250,000 cash bond. He has been ordered to have no contact with victims or witnesses and is prohibited from entering the clinic. He was also ordered "not to perform any type of medical treatment for any reason whatsoever," the docket says.
More from Law&Crime: Larry Nassar reportedly stabbed in prison while serving time for sexually abusing young top athletes
Have a tip we should know? [email protected]