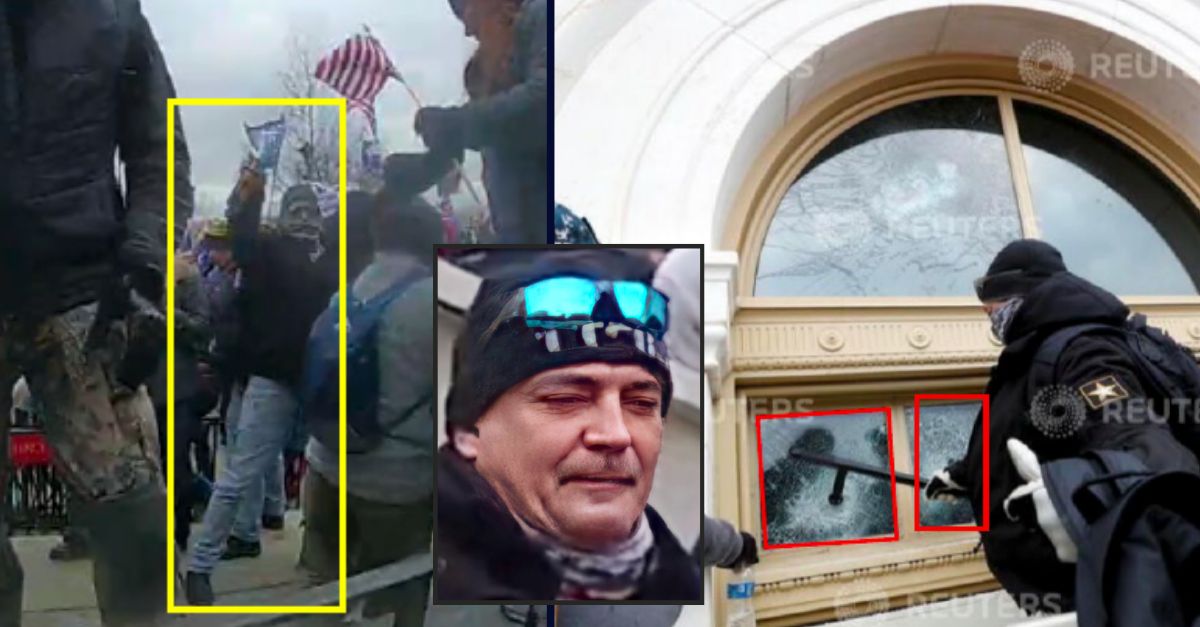 William Lewis is seen allegedly spraying a chemical toward police, left, and smashing multiple windowpanes during the attack on the U.S. Capitol building on Jan. 6, 2021. Inset: Williams. (Images via FBI court filing.)
An Illinois man is under arrest for allegedly using wasp spray and a police baton to pave a path of destruction at the U.S. Capitol on Jan. 6.
William Lewis, 57, is accused of unloading a can of "No Pest Wasp & Hornet Killer" while facing off against a line of police officers trying to beat back the crowd of Donald Trump supporters who descended on the Capitol that day as Congress was preparing to certify Joe Biden's win in the 2020 presidential election. According to criminal court filings, credit card records suggest he drove from Burbank, a Chicago suburb some 15 miles southwest of the city, to the Washington, D.C., area starting on Jan. 4, 2021. It is not clear whether he attended Trump's speech at the Ellipse — during which he implored his followers to "fight like hell" — before joining the crowd of rioters amassed at the West Plaza on Capitol grounds at around 2:15 p.m.
During the melee, Lewis allegedly sprayed the contents of the anti-wasp spray can toward law enforcement officials at least three times. In the first incident, at least five officers with the Metropolitan Police Department were hit with the spray. Two more officers were hit when Lewis took aim a second time. He hit a single officer with his third deployment of the bug spray, and according to prosecutors, that officer "experienced a burning sensation on his face and his eyes as a result of being sprayed."
After the "third spray event," Lewis threw the canister in the direction of the cops, prosecutors say.
But he wasn't done.
"Subsequently, Lewis advanced to the Lower West Terrace of the Capitol building, where a stage was being constructed for the upcoming presidential inauguration," prosecutors said. "There, Lewis used what appears to be a baton to strike and break at least three glass panes of a window located immediately to the right (i.e., north) of the Lower West Terrace tunnel. He can be observed striking three separate window panes[.]"
The cost of repairing the three windowpanes was nearly $1,800, the DOJ said, citing the Architect of the Capitol.
Lewis is charged with assaulting, resisting, or impeding certain officers and civil disorder, both felonies. He is also charged with misdemeanors including destruction of government property, unlawfully entering or remaining in any restricted building or grounds, and physical violence on Capitol grounds.
Online sleuths had given Lewis the nickname "CarharttWasp," the criminal complaint says, "based on his wearing of a Carhartt-brand hat and use of what appears to wasp and hornet spray."
Read the statement of facts in support of Lewis' arrest, below.
Have a tip we should know? [email protected]