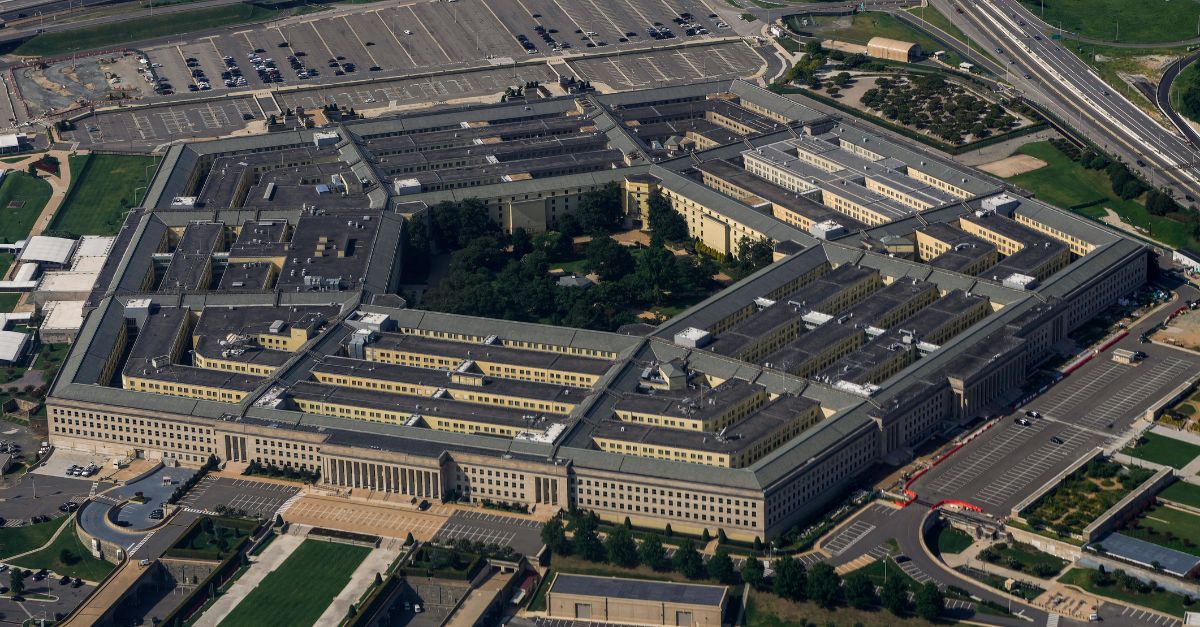 FILE – The Pentagon is seen on Sunday, Aug. 27, 2023, in Washington. (AP Photo/Carolyn Kaster, File)
Former U.S. Army Sgt. Daniel Schmidt's futile attempts at dispersing classified information showed his background training in spycraft was missing in action after prosecutors in Seattle announced this week he was taken into custody and charged with trying to pass American secrets to China.
Schmidt, 29, served from 2015 to 2020, according to a declaration filed on Oct. 6 by prosecutors bringing the burgeoning espionage case in the U.S. District Court for the Western District of Washington.
Indicted on Oct. 4, Schmidt was arrested at the airport in San Francisco and charged  with a single count of retention of national defense information as well as one charge of attempted delivery of national defense information. U.S. attorneys Tessa Gorman and Todd Greenberg are prosecuting the case.
According to an affidavit from FBI special agent Brandon Tower, Schmidt conducted a number of searches on Google including "soldier defect," "Chinese embassy", "Iranian consulate" and perhaps most tellingly, prosecutors contend, phrases like "countries that don't extradite" and "can you be extradited for treason?"
During his stint in the military, Schmidt was leader for a Human Intelligence team, court records show. He collected, shared and analyzed intelligence data, Tower said.
It required him to have top secret security clearance.
But when it came down to it, authorities say Schmidt used rather rudimentary methods to advance his alleged secret-sharing scheme, traveling from the U.S. to Turkey and China and communicating over insecure networks as he passed off a number of documents he mocked up including those on U.S. intelligence training methods and even, the diagram of the Army's computer network.
On February 24, 2020, using his Gmail account, Schmidt sent a message over a public email address to the Chinese Consulate located in Istanbul, Turkey.
Using an alias of "Joe Schmidt," records show he disclosed that he was a U.S. citizen looking to move to China and that he was "trying to share information I learned during my career as an interrogator with the Chinese government."
"I have a current top secret clearance and would like to talk to someone from the government to share this information with you if that is possible," Schmidt allegedly wrote before running down a list of his skills, including being a "spy handler" and in a stroke of seeming irony, "surveillance detection."
Schmidt closed the message by saying that he was concerned about discussing his concerns any further over email.
He sent several more emails over the next few days using Outlook and Yahoo to Chinese news outlets like China Daily, consulates and others.
Prosecutors say they were able to recover records from Schmidt's iCloud account while he was in Turkey that showed him researching driving directions from the airport in Beijing to the Ministry of State Security, a bureau that handles sensitive records in China.
Trips to Beijing and Turkey began after he left active duty in January 2020, special agent Tower noted in his affidavit.
While the 29-year-old sergeant sent a flurry of emails trying to make contact, prosecutors say he also created a Microsoft Word document in March 2020 on his computer entitled: "Important Information to Share with Chinese Government."
"The Army has determined that this contained a variety of classified information that relates to the nation defense," FBI agent Tower wrote.
Schmidt served in the 109th Military Intelligence Battalion at Joint Base Lewis-McChord. In a statement from the Department of Justice released Friday, acting U.S. attorney in Washington state Tessa Gorman described the allegations against Schmidt as "shocking."
"Members of our military take a sworn oath to defend our country and the Constitution. In that context the alleged actions of this former military member are shocking – not only attempting to provide national defense information, but also information that would assist a foreign adversary to gain access to Department of Defense secure computer networks," Gorman said.
Have a tip we should know? [email protected]