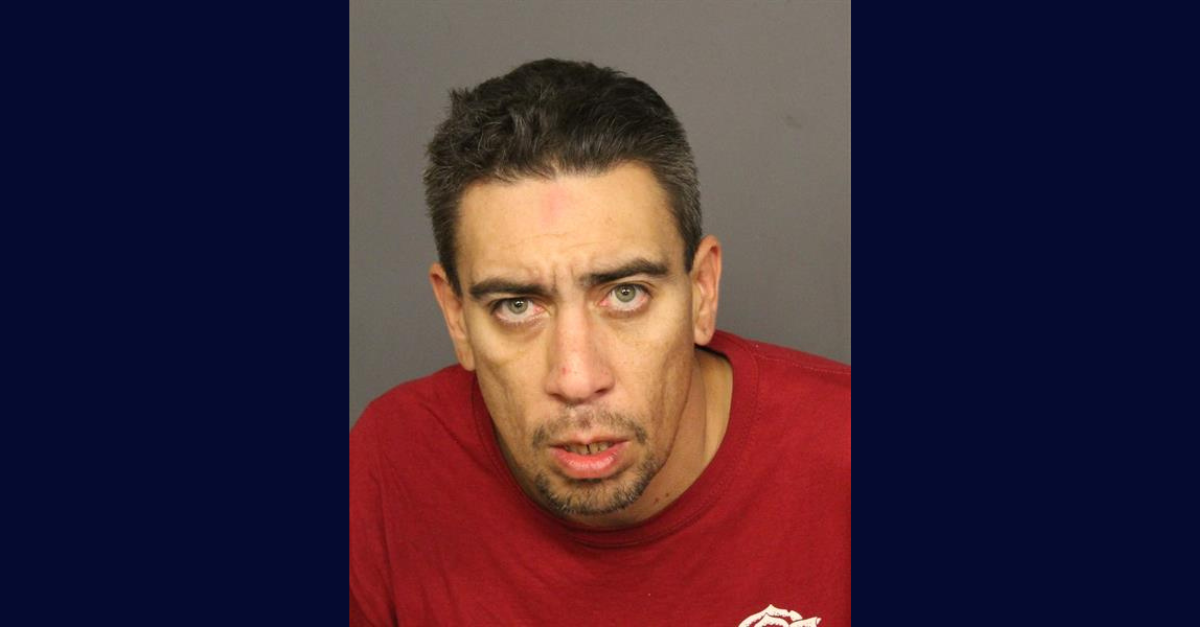 Angelo Valentino Mantych murdered his girlfriend, Marina Placensia, investigators say. (Mug shot: Denver District Attorney's Office)
The initial autopsy into the late Marina Placensia, 28, was initially inconclusive on how she died, but years later, her disturbing array of injuries and tragic history resulted in a murder charge against her boyfriend, Angelo Valentino Mantych, 41. Authorities now say he strangled her to death.
The couple and their four children were moving out of Racine, Wisconsin, in late August 2016, according to documents and a press release from the Denver District Attorney's Office in Colorado. Placensia was unresponsive when they arrived at Denver Union Station, however. Documents described resuscitation efforts, but she was pronounced dead.
"Your Affiant observed that Mantych appeared to be upset, crying and vomited several times," the documents stated.
The defendant allegedly asserted he tried to wake her up about 20 minutes before they arrived. He could not because she was a "heavy sleeper." When he tried again 10 minutes before arrival, he again got no response. Realizing something was wrong, he asked for help, he allegedly said.
No witnesses turned up saying they saw the couple get into any disturbance or assault on the train.
But there were immediate signs of trouble. Placensia's family had already been at Denver Union Station to welcome her; her brother told investigators to look into Mantych "because he is abusive."
Investigators discovered numerous bruises all over Placensia's body. These seemed consistent with an assault or struggle, but none presented as an obvious cause of death, they wrote.
Mantych allegedly tried to explain away her injuries as something she received during their move. In one version of events, he said a door struck her in the shoulder while they were moving furniture, documents said. In another interview, he allegedly said she was carrying a box when a door hit her in the face. He also claimed that her 2-year-old daughter scratched her in the face.
"Angelo described them being 'super excited' about moving back to Denver and were constantly talking about what they were going to do and getting their game plan together," the affidavit stated. "Angelo described them as being overly happy the last couple months. Angelo volunteered that the whole time he was not even sitting next to her on the train."
The autopsy noted numerous injuries to the body, including a bruise to the right cheek, bruises around her mouth and face, bruises on her thighs and calves, bruises on her upper body, and the right side of her abdomen, as well as fractured ribs. There was no immediate determination of cause or manner of death, however.
It would be years before prosecutors charged Mantych, but witnesses detailed an ugly relationship in which Mantych allegedly subjected both Placensia and her four children to prolific abuse.
In a partially redacted portion of the document, a neighbor said that Mantych "beat" Placensia the day before they left. They fought all the time and Mantych had also beaten her two months before the move, the neighbor said.
Another neighbor told investigators about being aware of a domestic violence history and that Mantych was physically and mentally abusive to Placensia, hitting her every day.
During the move, he allegedly slapped Placensia on the face, punched her side, grabbed and punched her arms, grabbed her neck, and pulled her hair.
He allegedly called Placensia a "c—," and "a dumb b—-," and ordered her to move the furniture faster.
"He was throwing furniture off the balcony and was yelling at the children and telling them to move the furniture and that they weren't doing it right," documents wrote. "[Redacted] said her son tried to help their children move a mattress, but Angelo yelled at her son not to help them."
There were also more allegations of abusing the kids. In one instance, a redacted witness described hearing one of the boys say "please stop, it hurts," and Mantych allegedly answered, "get up, you little bastard."
"Stop acting like your f—ing mom and take it like a man," the defendant allegedly told the child.
This witness described feeling that Mantych had his children, in her words, "highly trained to not say anything."
"[Redacted] said she had taken Marina to Wheaton Francis Hospital, in Racine, WI, several times to be treated for injuries sustained from Angelo's assaults on her," documents stated.
In one incident, Placensia described Mantych allegedly opening her legs and striking her "down there."
In another incident, two years before the murder, Mantych allegedly held a baby off the balcony and told Placensia, "Do what I say, or the baby goes."
Racine County Social Services told Denver investigators on Sept. 8, 2016, about the two older sons coming to school with dirty clothes and smelling of urine.
Denver investigators later learned about a March 13, 2015, assault case in which Mantych allegedly became upset about the race of a man on a television show and asked Placensia if this person resembled a man she had slept with. He allegedly grabbed her and punched her head several times, resulting in her being unable to hear in her left ear.
Placensia would wear sweaters and sunglasses in the summer to cover the injuries she sustained at Mantych's hands, documents stated.
In addition to physical abuse, a witness described hearing from Placensia about Mantych allegedly molesting her daughter, whom she had had with another man while Mantych was in prison.
Placensia had been moving to Denver to get away from her boyfriend, though he refused to let her go, according to allegations.
"If I can't have you, no one will," he allegedly said when learning of her plan to leave.
A follow-up forensic investigation resulted in a doctor on May 18 of this year declaring that Placensia had died from being suffocated — her injuries were consistent with such cases involving living and dead patients.
Furthermore, this was from an assault, with pressure to her face and obstruction to her nose and mouth.
"Ms. Placensia exhibits multiple areas of oral and perioral trauma consistent with asphyxia from suffocation," the doctor wrote. "No other medical conditions were found at autopsy which could have resulted in Ms. Placensia's death. The manner of death is homicide."
Have a tip we should know? [email protected]