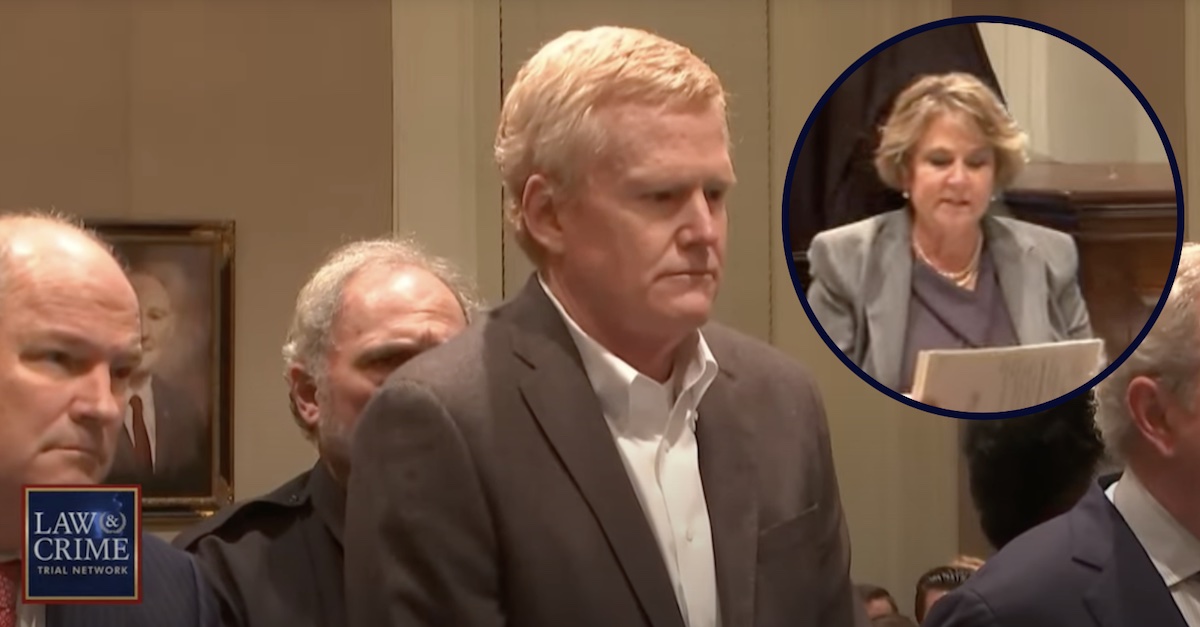 Alex Murdaugh awaits his verdict, Colleton County Court Clerk Rebecca "Becky" Hill reads the verdict sealing Murdaugh's fate on March 2, 2023 (Law&Crime Network)
After convicted double murderer Alex Murdaugh's defense lawyers raised "serious allegations pertaining to improper jury communications by the Clerk of Court" in their bid for a new trial and a "full blown evidentiary hearing," prosecutors responded by saying that the defense has "failed to make the prima facie showing necessary to justify so much as an evidentiary hearing, let alone a new trial."
The filing from South Carolina Attorney General Alan Wilson and his office — dated Nov. 6, filed and stamped Nov. 7 — included a sworn affidavit from Colleton County Clerk of Court Rebecca "Becky" Hill and voluntary statements from jurors, statements that the jurors signed as "true and correct" accounts.
The prosecutors who secured Alex Murdaugh's March convictions in the June 7, 2021 murders of his wife Margaret "Maggie" Murdaugh, 52, and son Paul Murdaugh, 22, rejected claims that defense attorneys Dick Harpootlian and Jim Griffin made about Hill improperly gunning to have "Juror 785" removed from the case through a made-up Facebook post. Significantly, the state has moved to strike from the new trial motion "All Such Material As Regards Murdaugh's Claims Regarding the Facebook Post(s), Book Deal, and Post-Trial Media Interactions as Immaterial, Impertinent, and Scandalous."
Recall: Murdaugh's lawyers claimed to have "sworn affidavit testimony" from jurors and "a witness to juror interviews, testimony at in camera proceedings, and other evidence" to support their assertions about Hill.
One juror, according to the defense, said Hill told them, "Y'all are going to hear things that will throw you all off. Don't let this distract you or mislead you." The Murdaugh defense also alleged that Hill "invented a story about a Facebook post to remove a juror she believed might not vote guilty."
Hill, who went on to write "Behind the Doors of Justice: The Murdaugh Murders," a book published after the trial, was further accused of pressuring the jury to quickly convict Murdaugh by "telling them from the outset of their deliberations that it 'shouldn't take them long.'"
Prosecutors on Monday minimized the foregoing by summarizing the defense bid for a new trial as based on virtually nothing.
"In support of his claim, Murdaugh offers affidavits from one juror [Juror 630] who participated in deliberations, one who was removed [Juror 785] for dishonestly concealing her own improper communications about the case, and two hearsay affidavits from his counsel's paralegal," the state said. "Murdaugh additionally advances a sweeping conspiratorial theory about wholly irrelevant Facebook posts with scant evidence to support it."
Much of the filing addressed "Juror 785," described as a "monkey farm" employee who was booted from the jury for discussing the case outside of court with her ex-husband's tenant's girlfriend, even as the then-juror acknowledged that she couldn't talk about the case. The filing said that the ex-husband posted on Facebook, before deleting the post, that his ex-wife had been saying she didn't think at that stage of the case that Alex Murdaugh committed the murders beyond a reasonable doubt.
Here's how the state recapped Becky Hill's statements about the deleted Facebook post and an apparent follow-up post elsewhere by "Juror 785's" ex-husband attributing the initial post to intoxication and demonic possession [transcript citations removed for ease of reading]:
Clerk Hill explained to the Court that she briefly saw a post the preceding Friday on "Walterboro Word of Mouth" which she attributed to a juror's ex-spouse which said "that h3 noticed that his ex-wife was saying that she was on the jury and saying stuff about how her verdict was going to be, and that he was the ex-husband, but she was known for talking way too much. And then I just kept on scrolling because that was enough for me. I've gotten enough." Clerk Hill "figured" the post referred to Juror 785 and alerted the Court after learning the Court had received an e-mail the following Monday. When Clerk Hill tried to find the post again at the Court's directive, she could not, but found another post by another account with the ex-spouse's name that apologized for deleting a post made while drunk and possessed by Satan.
The state said that there was a discussion between prosecutors and the defense as to the "feasibility of finding the devil-afflicted" man, and defense attorney Harpootlian "very clearly declined" by saying: "I think not, Judge. I think if you would just accommodate me, bring [Juror 785] in, ask [them] about the specifics of the conversation."
Furthermore, the state said, "Juror 630," the one juror who participated in the Murdaugh deliberations whose affidavit the defense highlighted, attributed statements to Becky Hill (statements she denies) that, in any event, closely resembled statements made by the prosecution during open statements and closing arguments. Those statements by the prosecution encouraged jurors to watch Murdaugh closely, watch his body language, and not to let him fool them.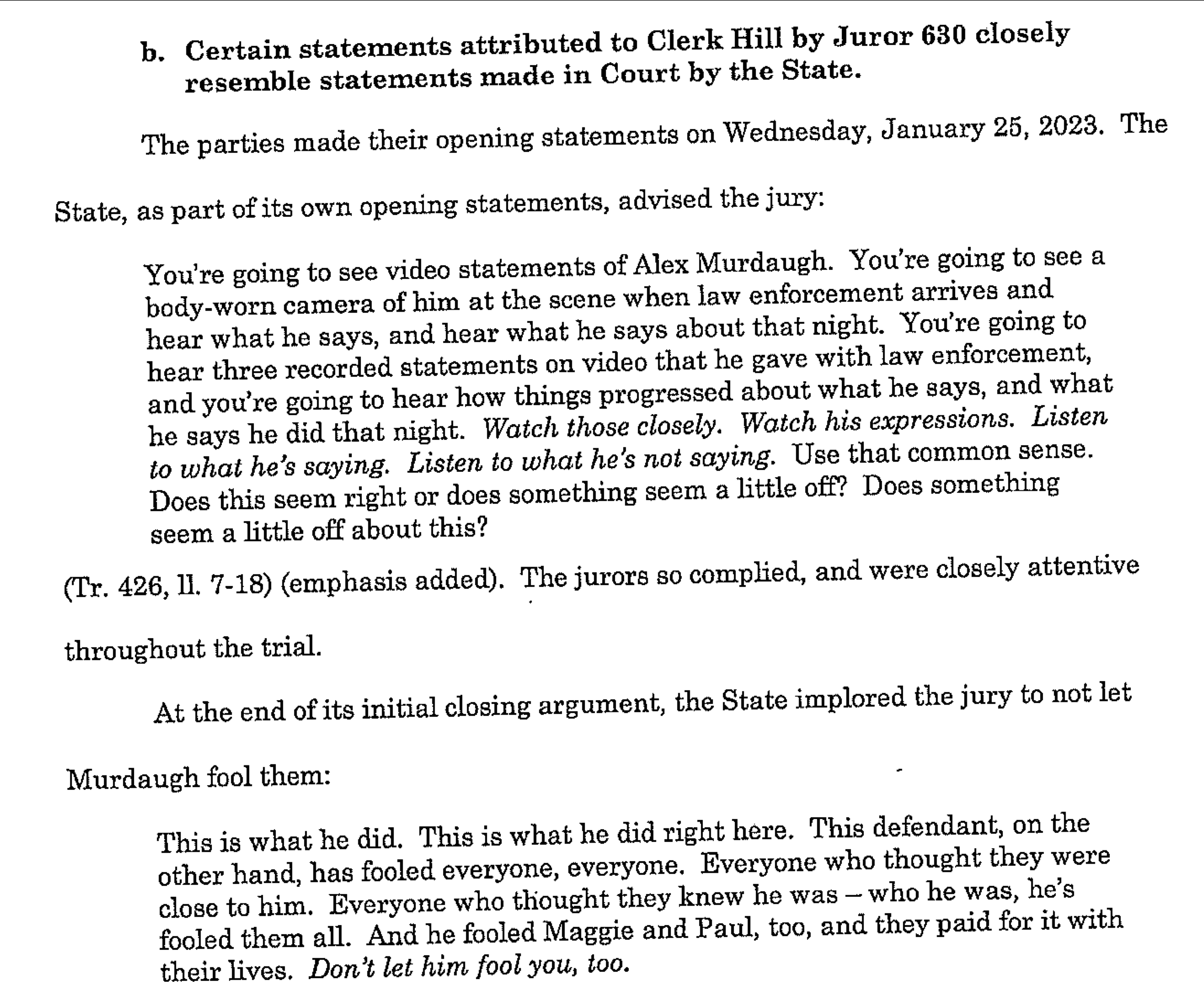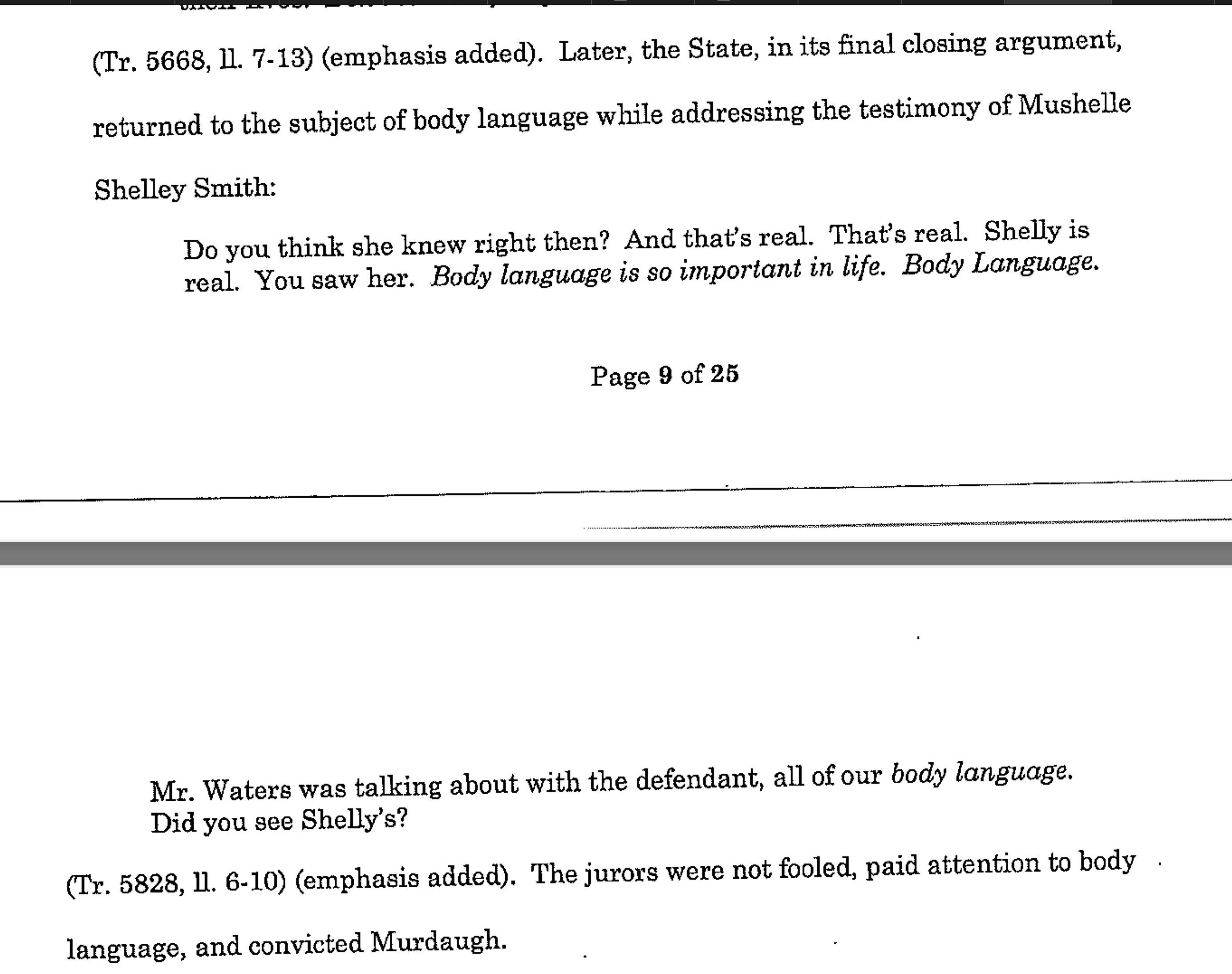 For her part, clerk Hill, who read the Murdaugh verdict aloud in court on March 2, submitted a sworn affidavit denying that she made various statements attributed to her by "Juror 630" and "Juror 785."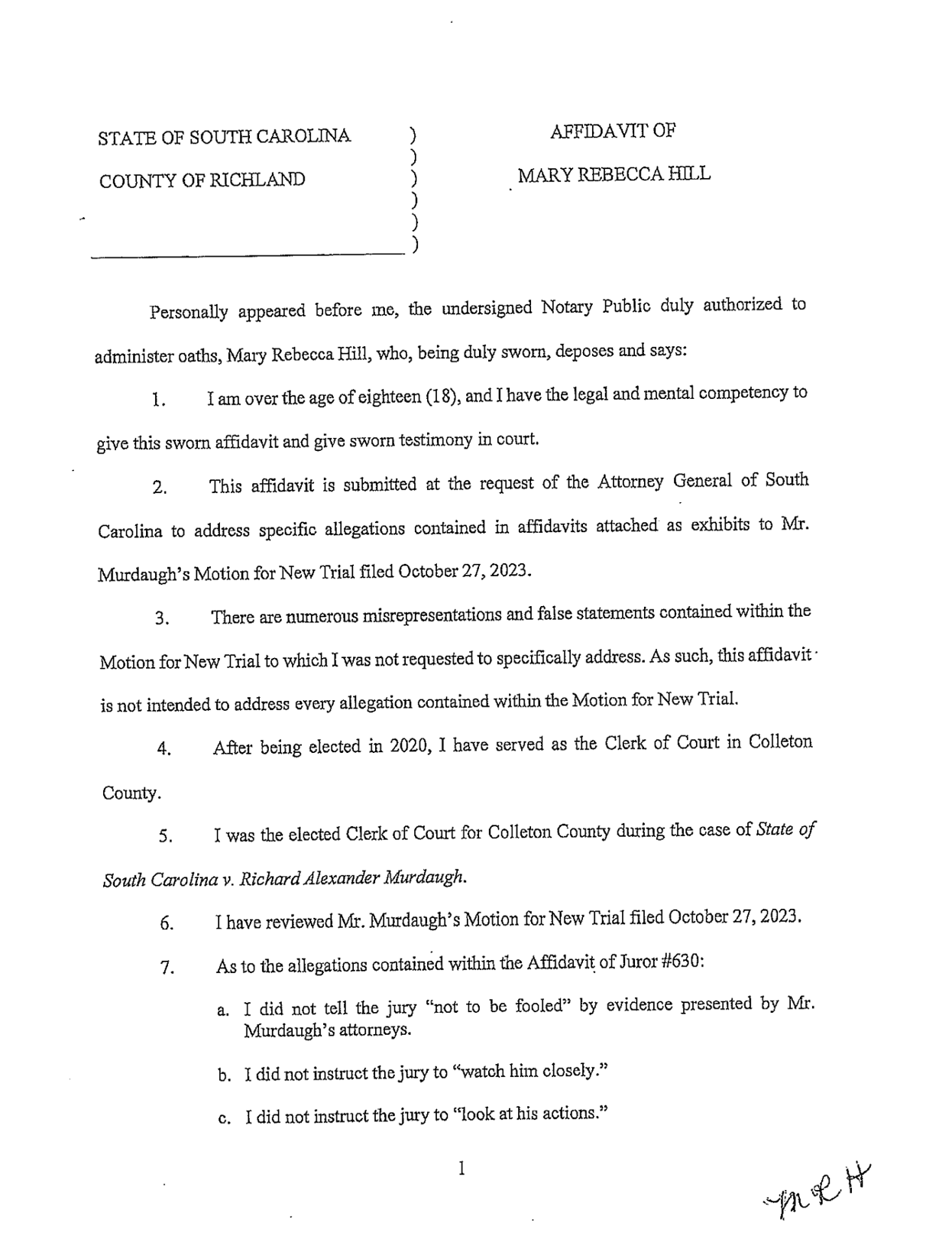 Hill swore she didn't tell jurors "not to be fooled," didn't instruct them to "watch [Murdaugh] closely," didn't tell them to "look at his actions," didn't instruct them to "look at his movements," didn't say "this shouldn't take us long," and didn't say "Y'all are going to hear things that will throw you all off. Don't let this distract or mislead you."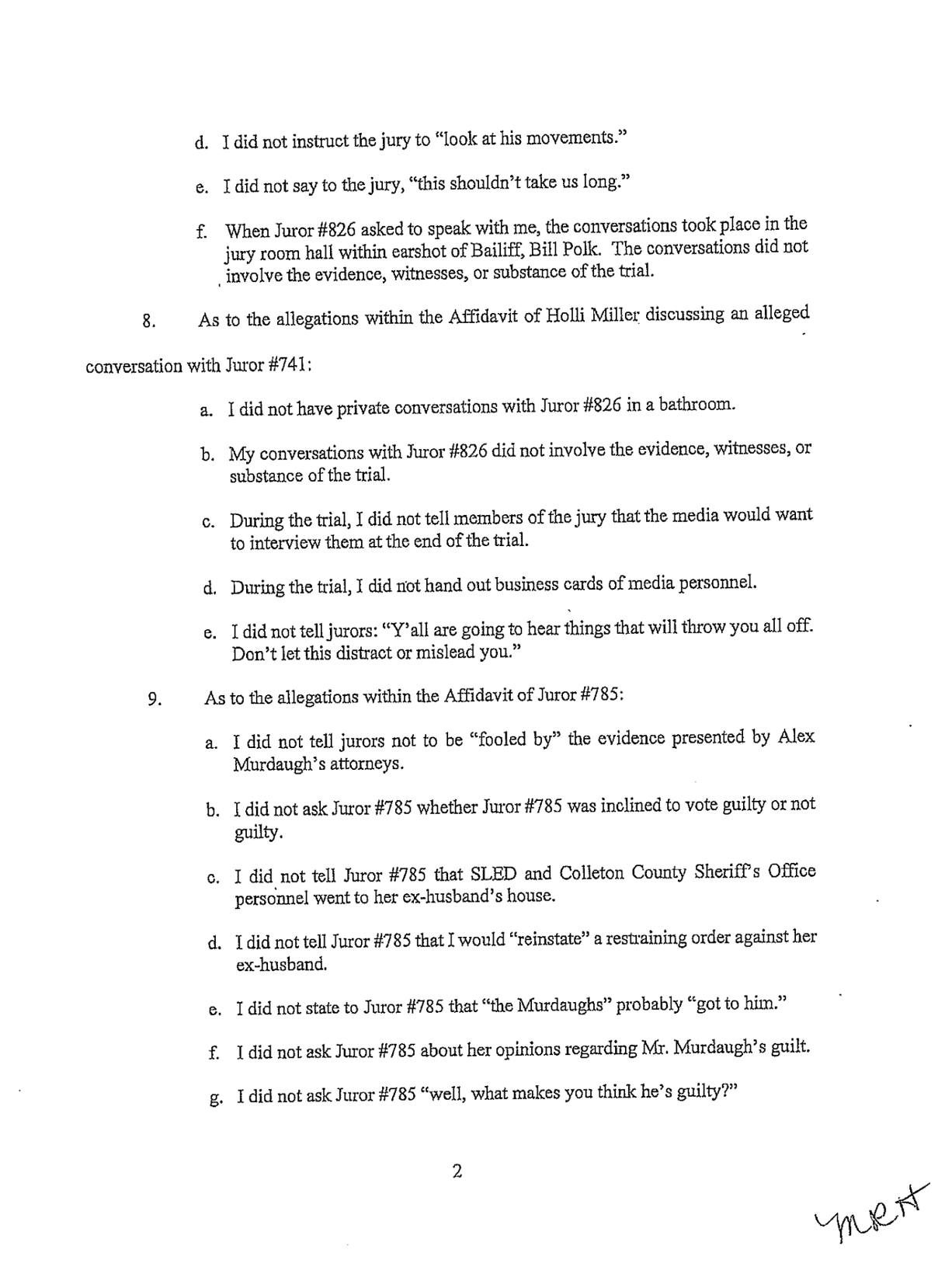 Among other things, Hill denied fabricating the Facebook post related to "Juror 785" and never threatened to "reinstate" a restraining order against her ex-husband. Nor did Hill make a comment that "the Murdaughs" probably "got to him," the affidavit said.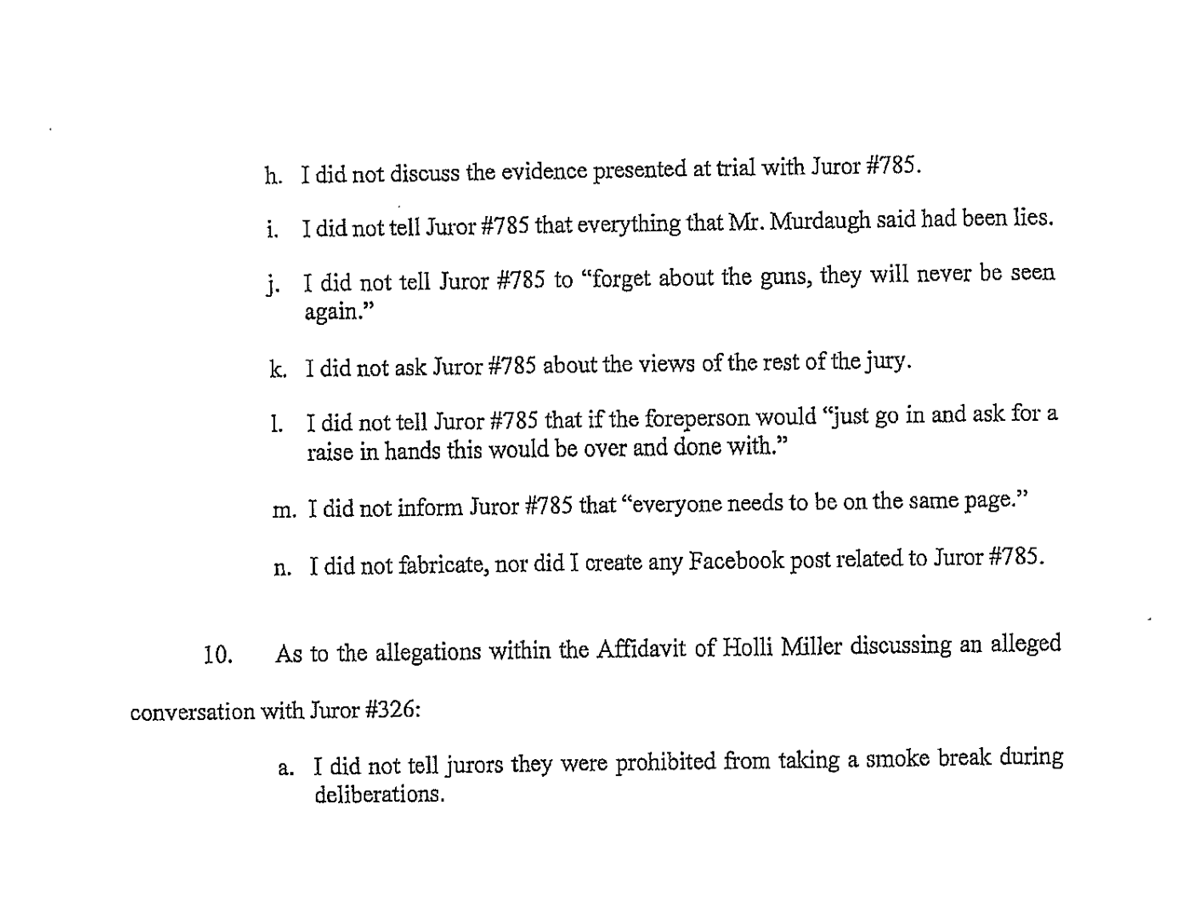 The juror answers to South Carolina Law Enforcement Division (SLED) investigators' questions about Hill's conduct stated unequivocally that they never felt coerced, pressured, or witnessed unethical conduct during their time serving on the Murdaugh jury.
One voluntary statement from "Juror 254" said the Murdaugh case was their first time on a jury. something the person found to be "very rewarding as a civic duty."
The juror wrote that the "only time that I had interaction with anyone was through the [bailiff]" — "[o]ther than one time when we as a jury was waiting to go into the courtroom and a comment was made to 'watch his body language.'"
While the statement did not specify who made the remark, the juror described it as irrelevant to the verdict.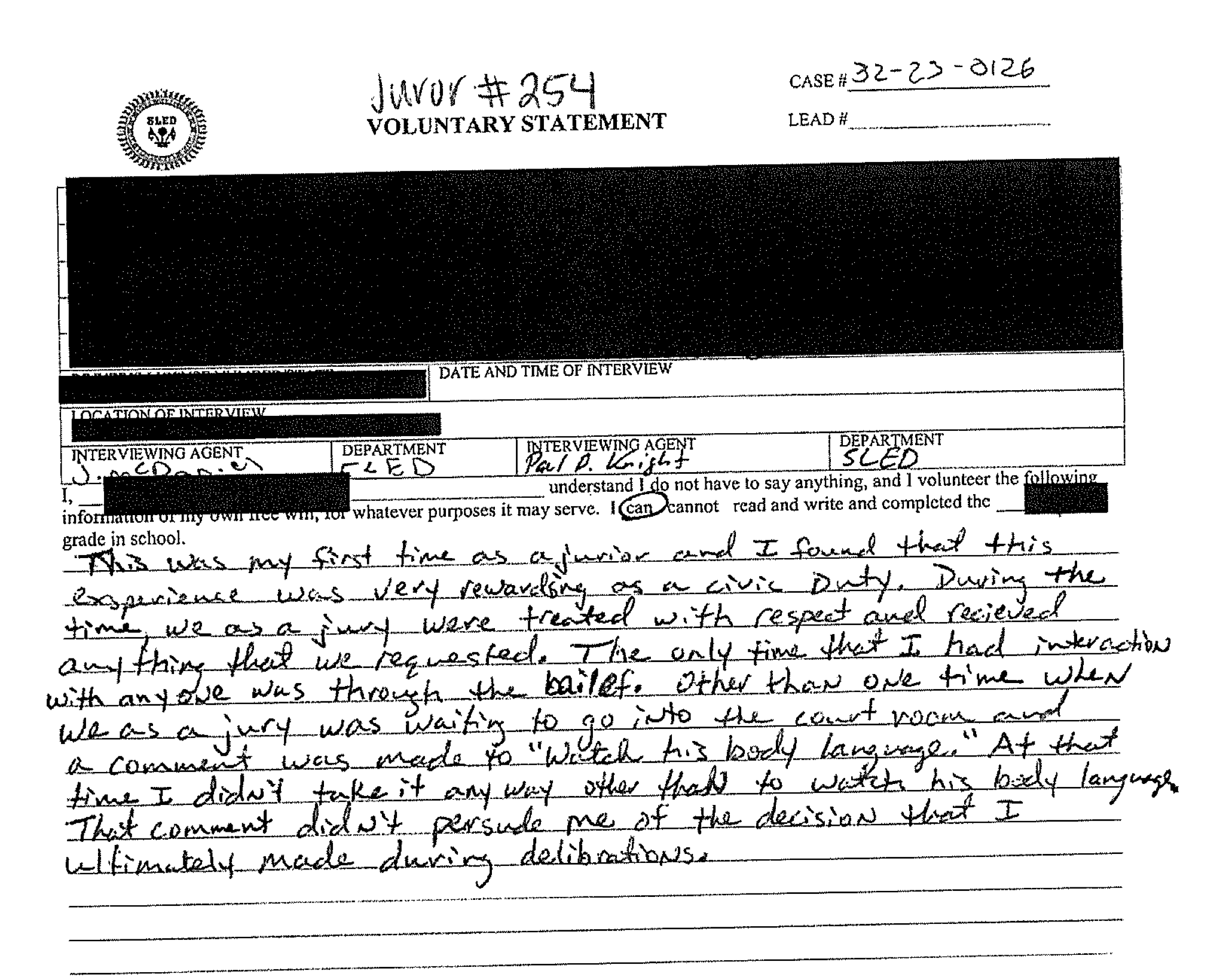 "At that time I didn't take it any way other than to watch his body language. That comment didn't persuade me of the decision that I ultimately made during deliberations," the statement ended.
Prosecutors said that Murdaugh's team failed to show through their affidavits that a deliberating juror, whether "Juror 630" or anyone else, was influenced in any way or coached to guarantee Murdaugh's conviction.
"The greater weight of anticipated juror and court staff testimony is that Clerk Hill made no materially improper comments. The State denied Murdaugh is entitled to relief and anticipates that any evidentiary hearing will only reaffirm the validity of his conviction for the murders of Maggie and Paul Murdaugh," prosecutors said. "Furthermore, even if Clerk Hill made any improper comments to the jury, the State has found no juror who will aver that anything Clerk Hill said or did influenced their verdict."
Read the state's response here.
Have a tip we should know? [email protected]