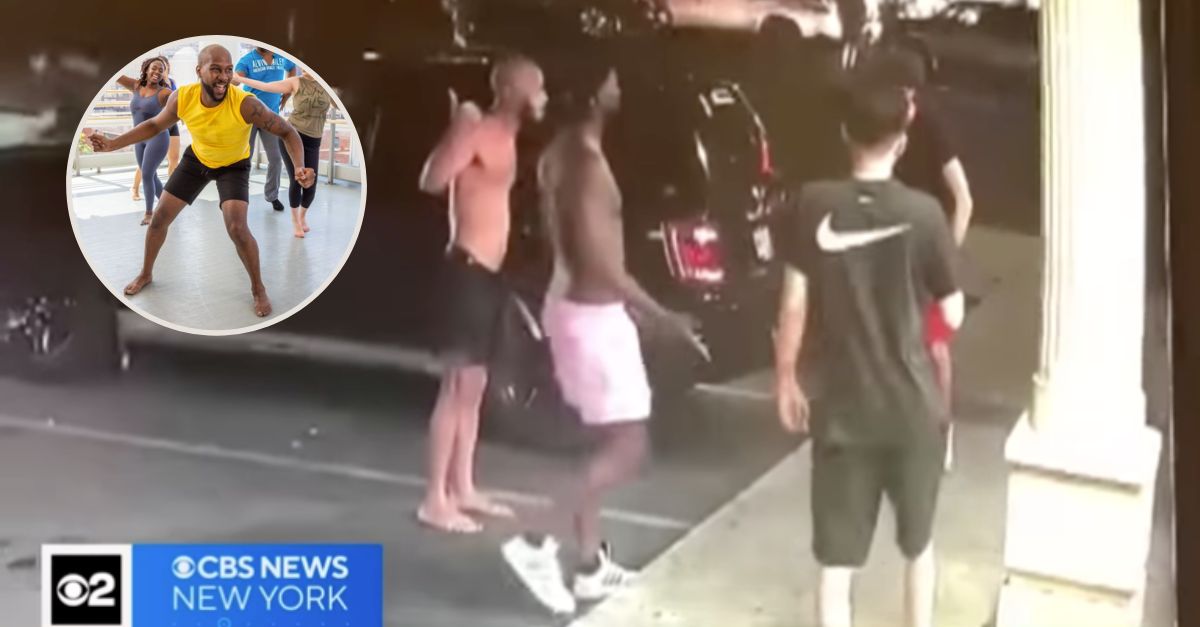 O'Shae Sibley, center, is seen on security footage before allegedly being stabbed to death after an altercation at a Brooklyn gas station (via YouTube/WCBS). Inset: Alvin Ailey American Dance Theater (Facebook).
A search is now reportedly underway for the person suspected of stabbing a gay Black man, O'Shae Sibley, to death after a heated exchange at a gas station in Brooklyn, New York last weekend.
CNN reported that sources familiar with the investigation have indicated the person who may be responsible for Sibley's death is just 17 years old. A spokesperson for the New York City Police Department told Law&Crime on Tuesday that Sibley's murder is being investigated as a "possible bias related incident" — in lay terms, a possible hate crime.
In a video posted on Facebook by Sibley's close friend, Otis Pena, Pena was overcome with emotion as he relived the horror of watching Sibley bleed out after standing up for his friends. Just moments before the attack, Pena said Sibley was outside of their vehicle at the gas station and vogueing, or dancing, to the Beyoncé song, "Renaissance."
A man shouted a slur at Sibley. Pena said it was an anti-gay slur. Sibley responded. Then the dispute turned deadly.
"They killed O'Shae. Right in front of me. I was covered in his blood. I was holding his stab wound… they stabbed him right in the heart…they killed my brother right in front of me, I'm covered in his blood, I'm covered in his blood. We were two stops from dropping all the girls off at my house, 'let's just get gas right here. Let's just get gas right here.' Two blocks from my house. And they murdered him. They murdered him. They murdered him because he was gay. Because he stood up for his friends. I'm letting people know, we might be gay, but we're just celebrating my brother's birthday. I'm trying to put pressure on the wound and there's just blood squirting everywhere. Happy birthday to me right. They killed him. They killed O'Shae. They killed him," Pena said.
Authorities said Sibley was stabbed in the torso and when police arrived, he was taken to Maimonides Medical Center. He was pronounced dead on arrival.
Sibley, 28, was a dance student in New York. The Ailey Extension, an offshoot of the Alvin Ailey American Dance Foundation, commemorated the slain student on Monday.
"He had an incredible energy in the studio and was loved by instructors and fellow classmates," the statement said.
The New York Times reported that another friend who witnessed the attack said a group of men had approached them first and began taunting them, prompting both Sibley and Pena to tell the man to "stop saying that."
"There is nothing wrong with being gay," they said.
Have a tip we should know? [email protected]