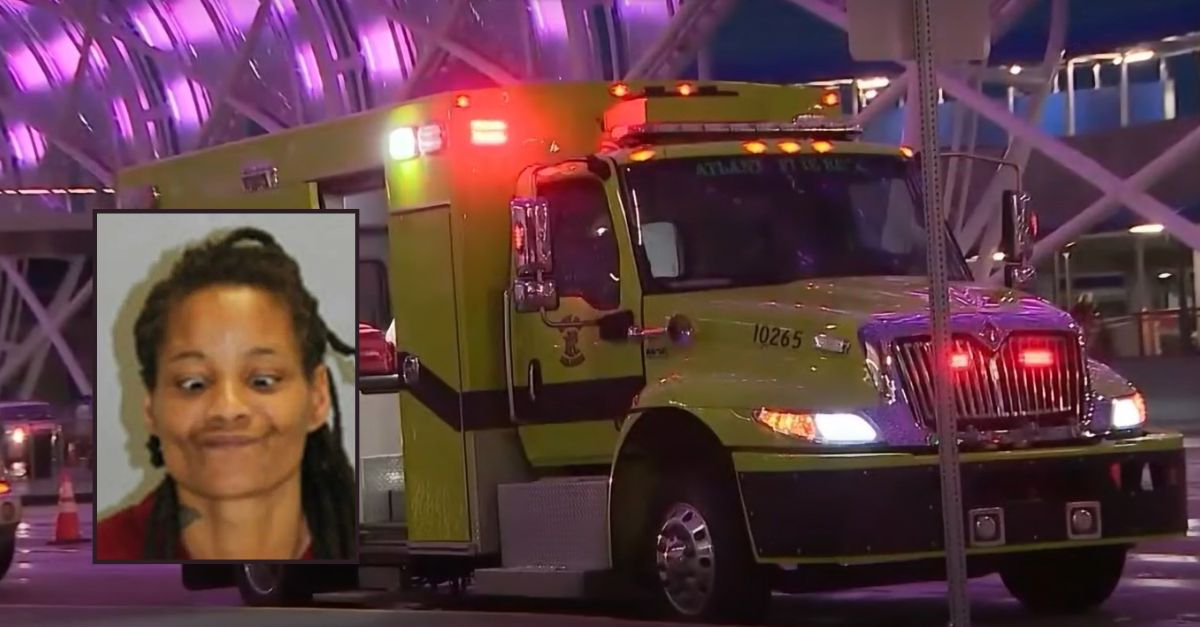 Background: An ambulance is parked at the airport in Atlanta, Georgia after medical care was required for multiple stabbing victims (via YouTube screengrab/WAGA).  Inset: Damaris Milton booking photo (via Atlanta Police Department).
A woman faces multiple assault charges after she went on a short-lived stabbing spree that included a police officer as one of the victims inside the Hartsfield-Jackson International Airport in Atlanta, Georgia.
According to an incident report obtained by Law&Crime from the Atlanta Police Department, Damaris Milton, 44, hailed a taxi driven by Selemon Melkamu headed toward the airport on Oct. 11.
Melkamu told police as he drove Milton — who is originally from Orlando, Florida —  she had stabbed him in the "upper right chest area near shoulder." He also claimed she reached for his phone, grabbed it and chucked it out of the car window onto the interstate.
Police officers did not come upon Milton until after the taxi driver dropped her off. She was first spotted in the airport's south terminal. An officer reported seeing Milton with a knife and multiple officers, along with a U.S. Marshal on site, began tailing her.
As she prowled through the airport, Milton took a swipe at a Delta employee with the knife, the incident report states, cutting that employee on the left side of their chest.  A police officer on the scene deployed his Taser to stop Milton after she swiped at the Delta employee but did not have much success since Milton wore two pairs of paints. The Taser never made contact with her skin, the incident report notes.
Still armed, Milton began to walk away as police commanded her to stand down and drop the knife. When she refused, another officer attempted to Taser her, but police said it was "unknown if the taser prongs hit Ms. Milton" at this juncture, either.
Officers then deployed mace in her direction, causing one lieutenant to slip on the slick floor. That's when Milton "bent down and stabbed [the lieutenant] in the left leg," the report states. This prompted another officer to tackle Milton to the ground while she was still clutching the knife.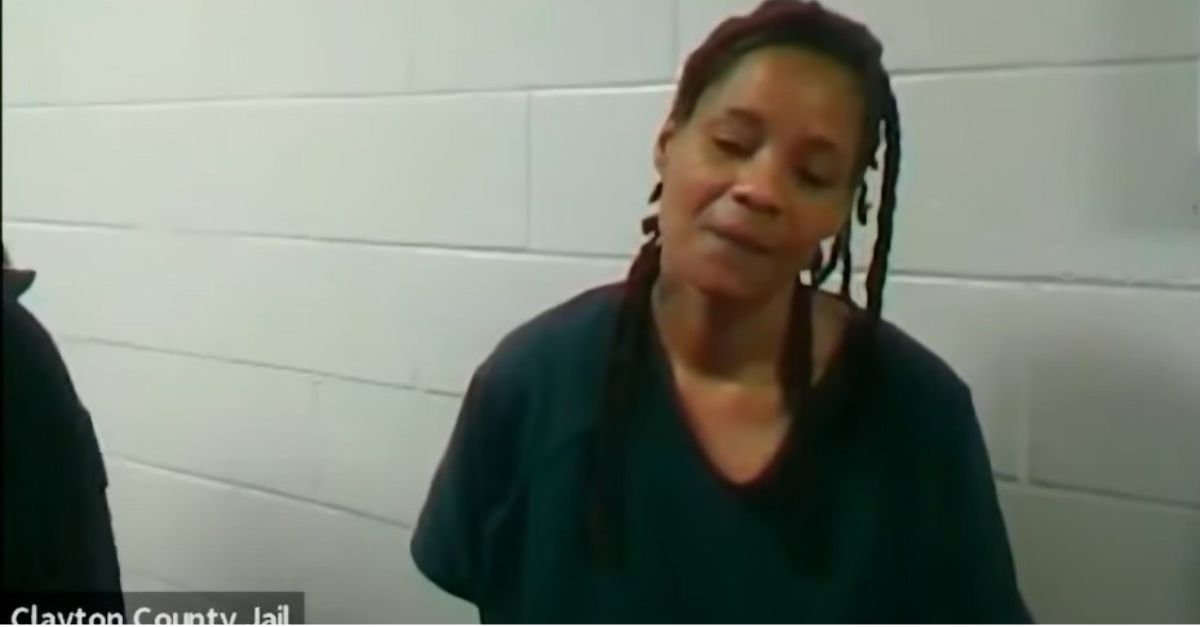 Screengrab YouTube from Fox affiliate WAGA shows Damaris Milton during remote court appearance while she was detained at Clayton County Jail in Georgia.
Police said the 44-year-old woman was arrested shortly after the chaos erupted inside the airport. Immediate medical care was provided to the taxi driver, the Delta employee and the police officer attacked in the chaotic spree before they were later treated at area hospitals.
Milton was sent to the Clayton County Jail and remains there after being denied bond.
She is charged with four counts of aggravated assault.
According to local Fox affiliate WAGA, which attended Milton's first court appearance on Thursday, when Milton was asked whether she would need a public defender she replied: "Y'all already said what y'all are going to do to me, why am I answering any questions?"
An official account representing the Atlanta airport on X, formerly known as Twitter, posted an "all-clear" after the episode noting that the disturbance was overall minimal to operations. A person inside the airport recorded while police apprehended Milton as well and shared the video to the social media platform. As people huddle in place, yelling can be heard in the background. After a moment, there is applause as Milton appears to have been subdued.
Have a tip we should know? [email protected]