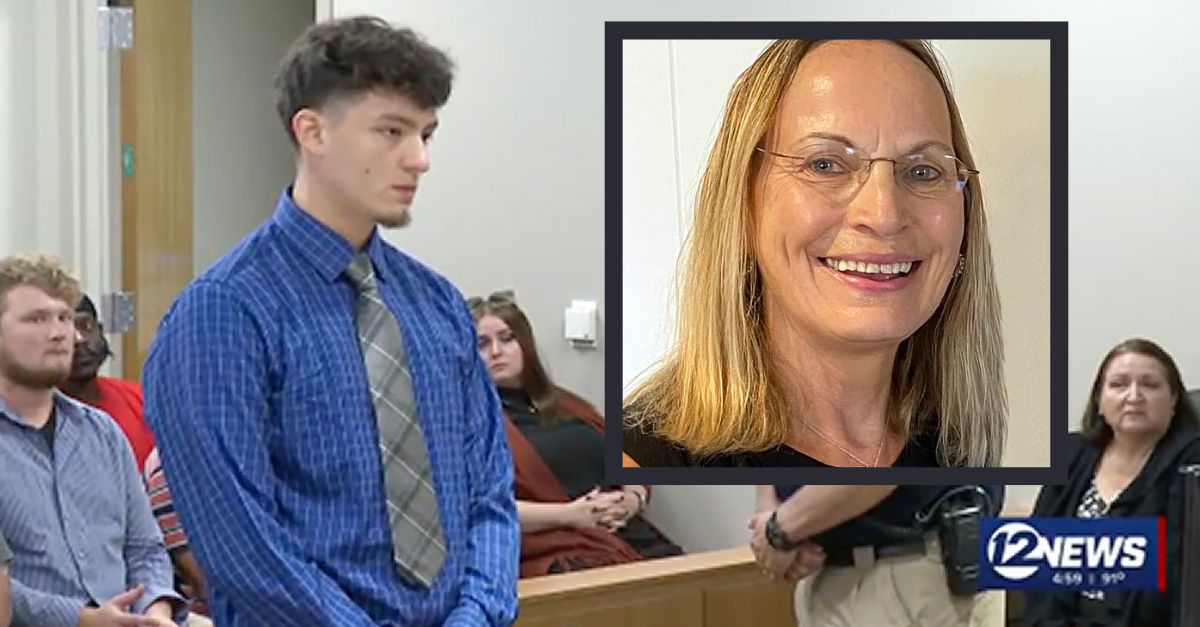 Daryon Boone, on the left, appears in court and Norma Williams, on the right, appears in her obituary photo. (Screengrab via KWCH; Wichita Police Department)
A Kansas teen appeared in court on Monday to face charges over the road rage death of a beloved mother and grandmother who was shot and killed earlier this month after she left a varsity football game with her husband.
Daryon Boone, 19, stands accused of one count each of murder in the first degree, and unlawful discharge of a firearm, according to Sedgwick County court records obtained by Law&Crime.
On Sept. 1, Norma L. Williams, 69, and her husband, George M. Williams, encountered a group of stunt rider motorcyclists at an intersection, according to the Wichita Police Department, Hutchinson, Kansas-based CBS affiliate KWCH reported.
The bikes were blocking traffic, authorities say. At some point, the Williams' 2021 Honda Ridgeline was struck by Boone as the group of street racers ran a red light, authorities later said. After that, a group of three or four cyclists chased the pickup truck down, according to the WPD. The Williams family tried to get away. Somewhere along East Central Ave in Wichita, Boone allegedly pulled a handgun out and fired twice into the back of the Ridgeline. The driver was unharmed but the front-seat passenger was struck at least once.
Responding officers found Norma Williams with a gunshot wound to her upper body and performed life-saving measures. She was then rushed to a nearby hospital where doctors pronounced her dead.
Local law enforcement had harsh words for the defendant.
"It's sickening," Wichita Police Chief Joe Sullivan told KWCH in early September. "It's disgusting. And, it's unacceptable."
Daryon Boone appears in a booking photo. (Wichita Police Department)
The anger at Boone was matched by grief for the loss of Williams.
"Norma was everybody's best friend," April Quillin, an instructor at Pure Barre Wichita, told the TV station in the days following her friend's premature death. "She loved everybody. To not have her anymore is devastating. It's devastating to everybody who has known her and it's unfortunate that more people don't get to know her and be in her world because she was so very special to everybody."
"It's that wave of sadness, knowing that you're just not going to see her," Quillin added. "And hurt for her family, especially for her grandkids. They lost a huge piece of their life. I just wish everybody would have had a chance to meet her."
Norma Williams reportedly worked out in the same back corner every time – and that corner has now been turned into a memorial.
"I got to be right next to Norma, I don't think I stood next to anyone else except for Norma," fellow Pure Barre enthusiast Erika Powell told KWCH. "The two of us were always in trouble in the back. We were literally in the back corner and it was always 'What are you two doing back there? What are you talking about? Why are you laughing? Do you want to share with the class?' Working out yesterday in class was tough because I didn't have my partner to look at."
An extended family member took the reins and started a GoFundMe to solicit donations for funeral arrangements.
"Norma loved nature and being outdoors," the fundraiser reads, echoing her obituary. "Her favorite thing to do was cheer on her grandkids at their sporting events. She was a beloved wife of 52 years. A wonderful mother, Nana, sister and friend. Norma leaves behind a grieving family wondering why this senseless act had occurred."
Boone was arrested just after the shooting. He was detained in the Sedgwick County Jail before being released on $500,000 bond two days later. The defendant is slated to next appear in court on Oct. 2.
Law&Crime reached out to the Wichita Police Department and the Sedgwick County Sheriff's Office for additional details on this story but no substantive responses were forthcoming. A public records request was also filed for specific records in Boone's case.
Have a tip we should know? [email protected]