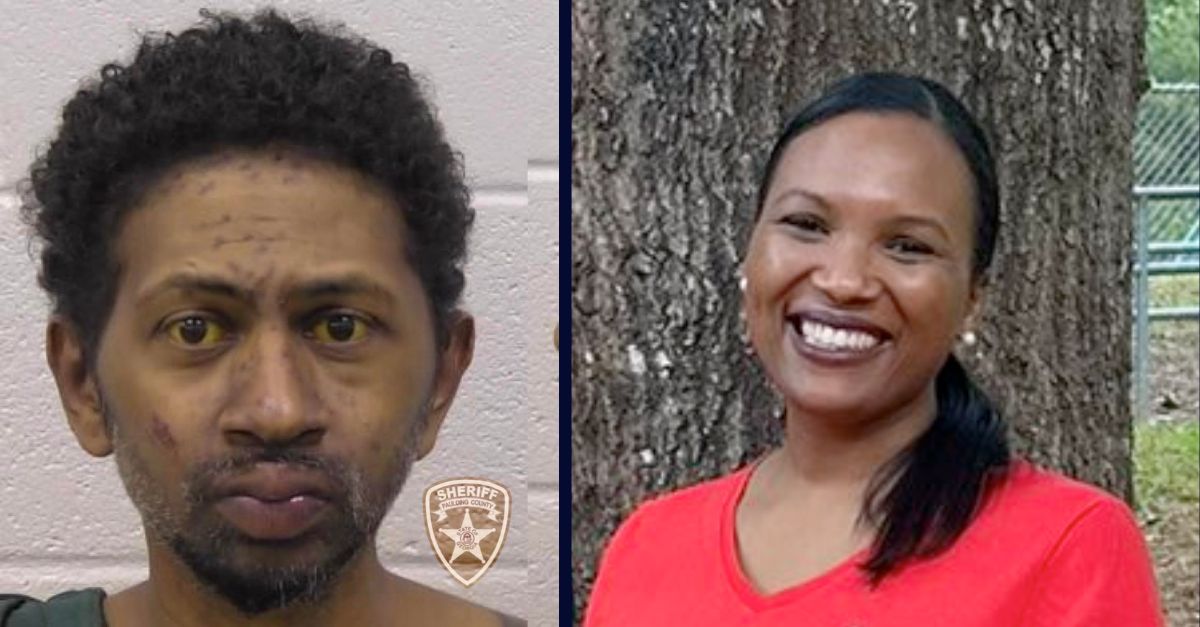 Tyron Lambert, on the left, and Jasmyn Lambert, on the right. (Paulding County Sheriff's Office; Still Elementary/Cobb County Schools)
A beloved Georgia elementary school teacher is dead and her estranged husband faces myriad criminal charges after two calls to the sheriff's office within a matter of hours couldn't stop the alleged violence.
Tyron Victor Lambert, 42, stands accused of one count each of murder – family violence, malice murder, home invasion – burglary, criminal damage to property, obstruction, and criminal trespass as well as two counts each of cruelty to children, aggravated assault, and possession of a firearm in the commission of a crime, according to a press release issued by the Paulding County Sheriff's Office.
Jasmyn Lambert, 37, was a mother of two. She taught third grade at Still Elementary School in Powder Springs, a small town in Cobb County and part of the broader Atlanta metropolitan area.
Deputies were first called to the residence on Topaz Drive in Dallas, Georgia, just after midnight on Saturday. A visitor dialed 911 to report that there was a domestic disturbance caused by a home invasion. Tyron Lambert had forced his way through the back door of the house and he was armed, the sheriff's office said.
"During the course of the unwelcomed visit, a domestic dispute ensued and Tyron Lambert pointed a gun and threatened multiple individuals while inside the home," the press release reads.
After that, apparently learning that law enforcement was on the way, the defendant fled the scene, according to the sheriff's office.
Law enforcement followed up with more than mere formalities – extending their efforts to specifically protect the victim's house.
"Paulding Deputies made a report, began the process to seek warrants for his arrest, placed the residence on zone patrol, and placed a 'Be On The Lookout' (BOLO) out via dispatch for Tyron Lambert and his vehicle," the press release continues.
But the heightened watch wasn't enough.
At 7:12 a.m. on the morning of Oct. 27, a second 911 call came in.
"The caller indicated that Tyron Lambert was back at the residence and that he had forced entry to the residence through the back door that he had entered through in the previous incident and that he was armed with a gun again," the sheriff's office said.
Law enforcement then rushed over to the residence, the sheriff's office said. But it was too late. Responding deputies heard a single gunshot once they were nearby but before they entered the home.
Tyron Lambert fled out the rear door on foot and was quickly chased down, according to the sheriff's office. He was arrested after what law enforcement described as a "brief struggle."
Jasmyn Lambert was rushed to Wellstar Paulding Hospital where she succumbed to her injuries, authorities said.
"It is with great sadness that we share the passing of one of our third grade teachers," a Cobb County Schools spokesperson said in a statement provided to Law&Crime. "Jasmyn Lambert's big smile was welcoming to all, her classroom couldn't wait to see her every day. Our hearts go out to her family, friends, and the entire Still community who already miss her. Grief counselors are at school this week to support students and staff and we do ask you to give our school family privacy during this time of grief."
Saturday's events were not the first domestic disturbance between the estranged husband and wife.
Paulding County Sheriff's Office Spokesperson Ashley Henson local ABC affiliate WSB-TV that the defendant had a protective order taken out against him by his victim sometime last year.
Tyron Lambert is currently being detained in the Paulding County jail without bond.
The investigation is said to be ongoing and the defendant could face additional charges, authorities say.
Have a tip we should know? [email protected]