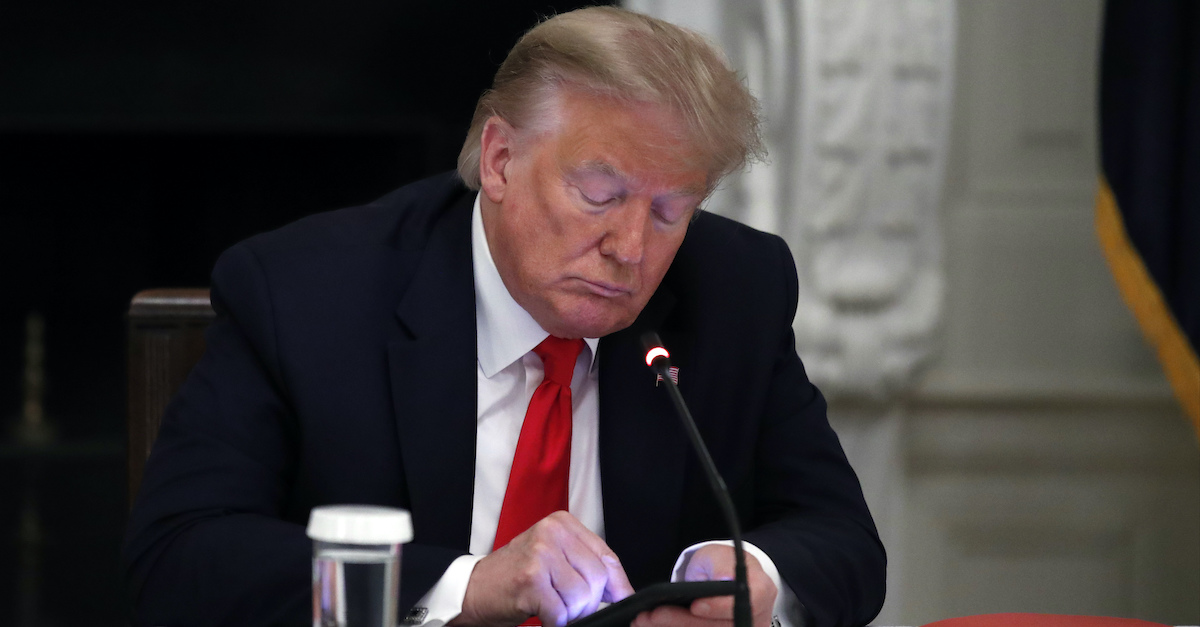 FILE – In this Thursday, June 18, 2020, file photo, President Donald Trump looks at his phone during a roundtable with governors on the reopening of America's small businesses, in the State Dining Room of the White House in Washington. (AP Photo/Alex Brandon, File)
An appeals court on Friday denied Donald Trump's request to pause his ongoing civil fraud trial in New York, just a week after the judge presiding over the matter found him liable for fraud and ordered his business holdings dissolved in the state. 
The denial comes shortly after Trump dropped a lawsuit he brought against the same judge. That paperwork was filed unexpectedly on Thursday, the Daily Beast first reported. Trump originally sued New York State Supreme Court Justice Arthur Engoron in mid-September, a maneuver intended to stop the $250 million civil fraud case brought against him and his business holdings by New York Attorney General Letitia James last year.
But with proceedings well underway and now that he is looking down the barrel at what is expected to be a weekslong if not monthslong ordeal at the courthouse in lower Manhattan, the lawsuit against the judge is obsolete and his appellate hopes are dashed. Trump filed his appeal seeking to overturn Engoron's finding that Trump, and several others who worked for the Trump Organization, committed serial fraud over several years. The appeal also pushed back against Engoron's ruling that Trump be prohibited from doing business in the state.
Engoron's decision was blasted by the 45th president as a "miscarriage of justice" and a decision that would irreparably harm him and those whose livelihoods depend on Trump Organization entities, a memorandum seeking a stay of pending his appeal states.
In asking for the stay, Trump's lawyers contended that the order to dissolve his businesses in New York "without trial and without reason" made any lawful operation of them impossible.
"Terminating non-party business licenses without jurisdiction, without process, without statutory authority, without trial and without reason renders impossible the lawful operations of multiple businesses and threatens hundreds of New York employees without any jurisdiction or due process. The [New York] Supreme Court clearly does not comprehend the scope of the chaos its decision has wrought," Friday's filing from Trump's lawyers states.
Christopher Kise, one of Trump's attorneys in the civil case, told The Associated Press on Friday that the decision not to stay proceedings was a "massive error" and "irreparable" because of how it would make defendants in other cases fearful that their fate could be the same as Trump's.
Trump's civil fraud bench trial in New York continues apace and the thrust of proceedings given the court's liability ruling in September means now the court must determine whether Trump should incur any fines for his fraudulent activity. The fines would begin in the hundreds of millions.
The former president tried to throw out the New York case altogether last month but failed. He is represented in New York by attorneys Clifford Robert, Michael Madaio and Michael Farina.
Have a tip we should know? [email protected]