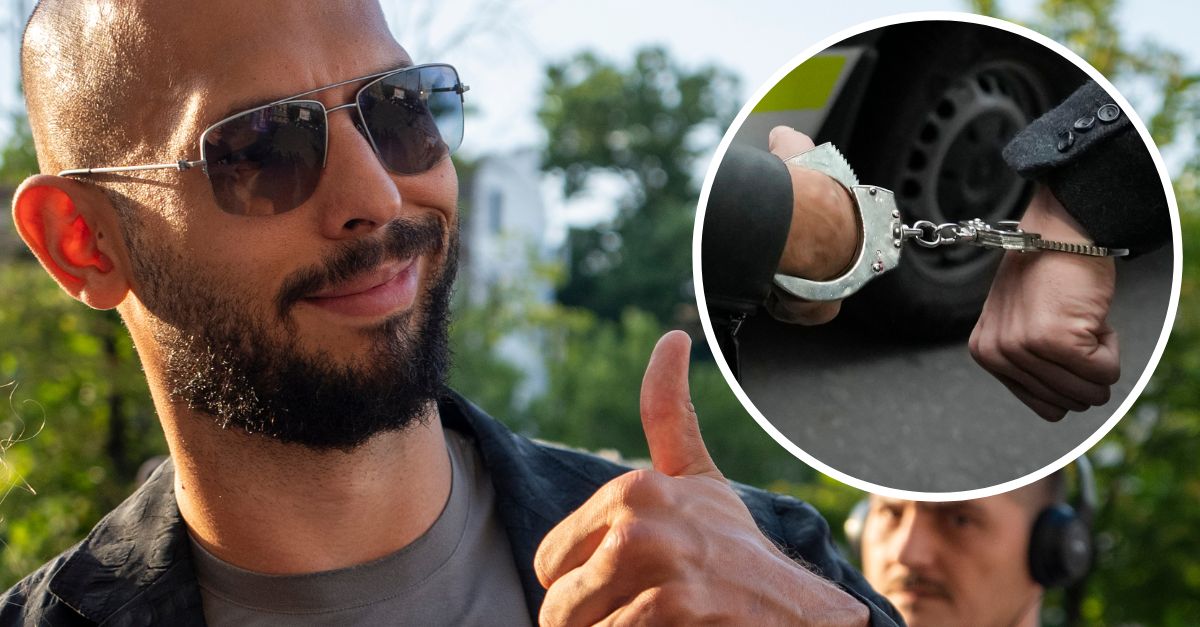 Andrew Tate, the divisive internet influencer who is charged in Romania with rape, human trafficking, and forming a criminal gang to sexually exploit women, gives a thumbs up upon exiting the Court of Appeal in Bucharest, Romania, on July 6, 2023. (AP Photo/Andreea Alexandru, File) Inset: Police officers escort Andrew Tate, left, handcuffed to his brother Tristan, outside the Directorate for Investigating Organized Crime and Terrorism (DIICOT) where prosecutors examine electronic equipment confiscated during the investigation in their case, in Bucharest, Romania, Thursday, Jan. 26, 2023. (AP Photo/Vadim Ghirda)
Attorneys for multiple alleged victims of controversial social media star Andrew Tate, a self-proclaimed misogynist, are looking to bring charges against him in the United Kingdom.
Tate, 36, is a former professional kickboxer-turned-entrepreneur. He and his brother Tristan Tate were arrested alongside two women in Romania in December 2022. In June 2023, all four were officially charged with rape, human trafficking, and forming a criminal gang to exploit women.
According to a Romanian investigative agency, the Tate brothers operated a webcam business that forced women to create pornography. Seven alleged victims are tied to the Romania case. The Tates have entered not guilty pleas and denied all the allegations. The brothers were released from jail and are on house arrest.
Attorneys Matthew Jury and Jack Beeston represent four alleged victims of Andrew Tate in the U.K. They spoke with Law&Crime's Sidebar podcast about the accusations against Andrew Tate.
All four victims allege serious physical and sexual assaults, while three of them allege rape. According to their attorneys, these victims claim Andrew Tate strangled them to the point that they lost consciousness.
Jury and Beeston say that Andrew Tate's own text messages and voice notes to the victims are damning evidence.
One victim supplied such notes to the police, in which Andrew Tate allegedly told the victim, "I love raping you." Police did not bring charges at the time, reportedly telling the victim that because she had consensual sex with Andrew Tate after the alleged assault, they didn't feel 100% confident they would win a case and a trial might only traumatize her further.
Host Jesse Weber questioned attorney Jury about that during the Sidebar interview.
"The way it works here in the U.K. is that the police will obviously carry out their investigation and then they will make their own decision as to whether to refer the case to the Crown Prosecution Service," Jury explained. "The CPS ultimately makes a decision whether or not to move forward with prosecution. We met with the police and they made it very clear to us that in there view there was sufficient evidence toward prosecution. But ultimately, the CPS went in another direction and they could not give us an explanation as to why."
Jury says their firm is petitioning to reopen the criminal investigation. The firm is also collecting as much evidence as possible before filing a civil action. Beeston says significant developments can be expected in the coming months.
The attorneys traveled to Romania to give a news conference about the U.K. case.
"We hosted a press conference in Romania to ensure the Romanian press and Romanian people were properly informed about proceedings in the U.K., but were also properly informed about a campaign of harassment and intimidation of the victims by [Andrew Tate's] team," Jury said.
"[Andrew] Tate has already attempted to have witnesses in the Romanian proceedings criminally prosecuted for what he says are false claims, that was thrown out by the Romanian courts," says Jury. "And he's attempting to do the same thing in the U.S., to pressure those victims to back off."
But Jury says the media event took a strange turn when some of Andrew Tate's representatives showed up.
"So the press conference was about harassment and intimidation and ironically, [Andrew] Tate's team decided to use that opportunity to disrupt the press conference by posing as journalists and asking inappropriate questions," he said. "At the same time, in asking those questions, they were they were disclosing identifying information of victims and witnesses that shouldn't be disclosed. So it's just further demonstration of the lengths that his team will go to to try and prejudice proceedings and interfere with the course of justice, I would say."
Some Andrew Tate supporters have suggested the women only came forward with claims of rape after Andrew Tate began flaunting his immense wealth on social media, suggesting they are expecting payouts in some way.
Jury pushed back against those allegations.
"To be fair to our clients, they took action immediately," he said. "They reported it to the police. They did everything that they were supposed to do and society expects them to do. And the police failed them. The authorities failed them. And so they were left without any recourse to justice."
Andrew Tate recently gave a combative interview to the BBC about the case against him.
"We have an open criminal investigation, I'm absolutely not really sure I'll be found innocent," he said. "I know the case better than you. I know it intimately and you don't. I have seen all the criminal files and the 'evidence' against me and you haven't. I know the truth of what happened and you don't."
At the word "evidence," Andrew Tate made the gesture for "air quotes" with his hands, indicating that he did not believe the evidence against him is real.
"The case that's been put against me is completely and utterly fabricated, and I'm never going to be found guilty of anything," he also said.
The social media influencer went on to say that he does not believe he will be convicted.
For now, Andrew Tate and his co-defendants must stay in Romania.
Have a tip we should know? [email protected]