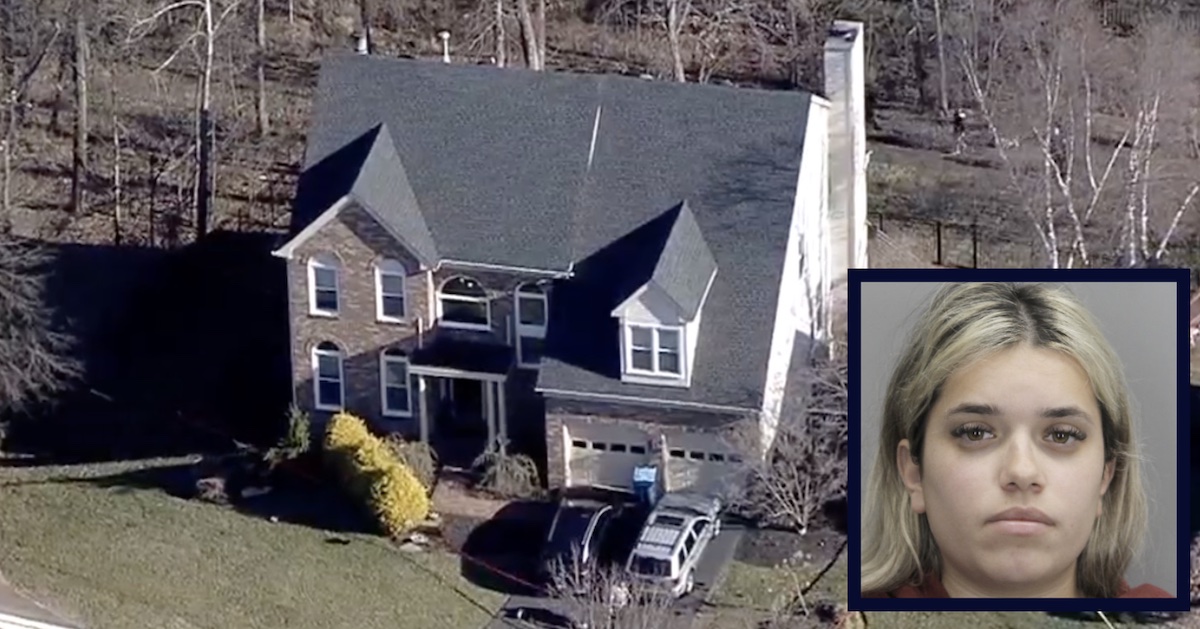 An aerial view of the home where the stabbing and shooting took place (WTTG/screengrab, Juliana Peres Magalhaes in a mug shot (Fairfax County Police Department)
A family's au pair who called 911 is behind bars several months after a woman was stabbed to death and a man was shot and killed in a quiet Northern Virginia residential neighborhood under circumstances that are still not entirely clear, authorities in Fairfax County say.
Juliana Peres Magalhaes, a 23-year-old Reston woman, is accused of shooting and killing 39-year-old Joseph Nathan Ryan, a Springfield resident who did not live at the Herndon home where the shooting and stabbing unfolded.
According to the Fairfax County Police Department, cops responded after 8 a.m. on Feb. 24 to an "appalling scene" at a home on Stable Brook Way, where they not only found Ryan shot dead, but also found 37-year-old resident Christine Ann Banfield fatally stabbed in an upstairs bedroom. Banfield, a nurse and mother, was pronounced dead at the hospital.
When the case first made news, police said that a woman called 911 to say that her friend was hurt. Next, a man spoke on the phone and allegedly told dispatch that he shot another man, claiming that the individual had entered the home and stabbed Christine Banfield, his wife.
Back in February, Fairfax County Police Chief Kevin Davis called the incident a "vicious and brutal attack" while addressing the media outside the crime scene.
Davis said cops first received a 911 call at 7:49 a.m. from the live-in nanny's cellphone, but the call amounted to an "open line hangup." Thirteen minutes later, the same phone dialed 911 and this time two people were on the line: Christine Banfield's husband and Juliana Peres Magalhaes.
More Law&Crime coverage: Animal rights attorney allegedly plotted murder after husband left her for their former au pair 
"The husband tells the 911 call-taker that he just shot a man inside of his home and the husband tells the 911 call-taker that the man he just shot had stabbed his wife," Davis said.
At the time, the police chief did not sound particularly convinced by the information law enforcement was given.
"We still have a lot of work to do to identify who exactly — we have to prove it — who exactly shot and killed our male decedent, Joseph Ryan, and who exactly stabbed Christine Banfield to death," Davis said. "We know what our 911 caller, the husband, told us, but we have a lot of work to do to substantiate that claim or to otherwise identify the person responsible for that crime and both crimes."
Davis said he did not know what Joseph Ryan was doing at the home, as he did not live there, but the police chief said there was no sign of forced entry.
"There was no forced entry whatsoever. This was not a home invasion," Davis said. "Here's what I can say right now with certainty: He did not force entry into the home. I do not know exactly what the nature of his presence in the home is all about just yet, but we're working hard to determine that."
"We don't think he is necessarily a stranger," Davis added of Ryan, before describing Christine Banfield's husband, a 38-year-old man, and the au pair, then 22, as "present and involved."
While the husband declined to speak with Fairfax County detectives about his wife's death after he exited a hospital for a minor leg injury, the au pair did the opposite, Davis said.
On Thursday, the Washington Post identified the husband as Brendan Robert Banfield, citing court documents. After seven-plus months of investigation, forensic evidence gathering and interviews, cops claim that Juliana Peres Magalhaes was, in fact, the one who shot Joseph Ryan — not Brendan Banfield — and that detectives are still trying to figure out the "circumstances that led up to the fatal stabbing of Christine Banfield."
It's unclear why Brendan Banfield would allegedly claim to be the shooter on the 911 call if Peres Magalhaes was the one who pulled the trigger, but he has not been charged with a crime or otherwise accused of wrongdoing.
Chief Davis has only said that the husband declined to speak with police, and the top cop left it at that.
As the investigation continues, Peres Magalhaes was locked up in the Fairfax County jail on a second-degree murder charge. She remains behind bars without bond, cops said.
Tragically, all of this took place while a 4-year-old girl was inside the residence, but the young child was not physically hurt when cops located her at the home.
"We're taking care of the child. We're working with other family members to make sure that child is cared for. We're going to do what's right by that child. The truest victim of all is that 4-year-old," Davis previously said, identifying her as the child of the "husband and our female decedent."
Have a tip we should know? [email protected]