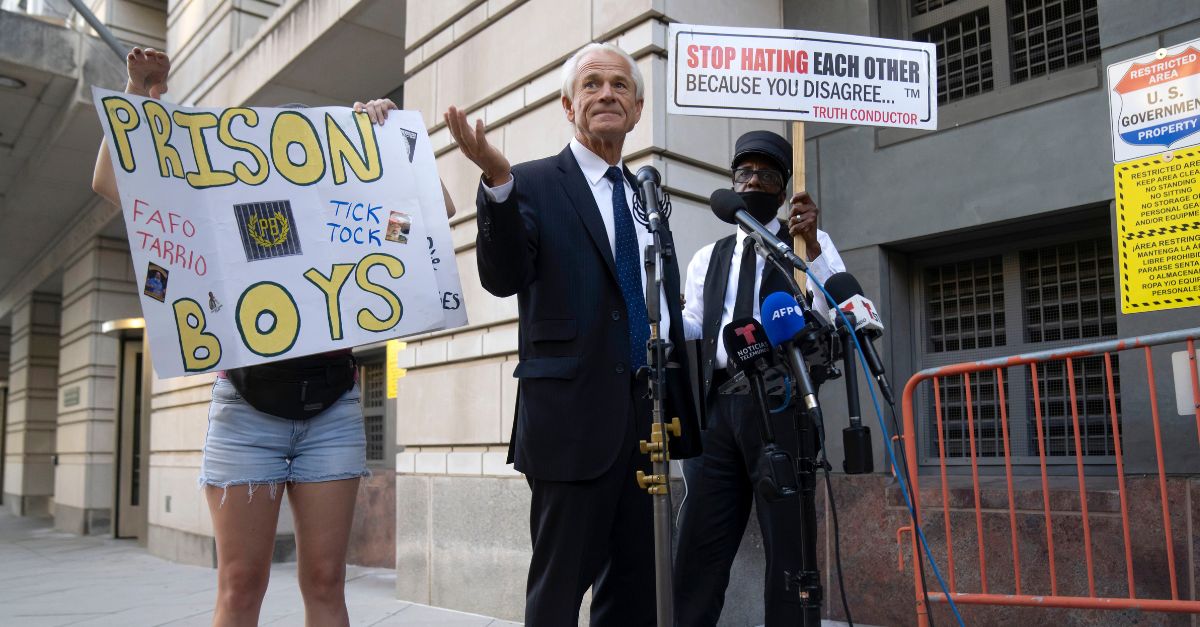 Former White House trade adviser Peter Navarro speaks to the media as he departs federal court, Tuesday, Sept. 5, 2023, in Washington. Navarro was convicted Thursday, Sept. 7, of contempt of Congress charges filed after he was accused of refusing to cooperate with a congressional investigation into the Jan. 6, 2021, attack on the U.S. Capitol. (AP Photo/Mark Schiefelbein, File)
Ex-Trump White House trade adviser Peter Navarro wants a new trial after being convicted of contempt of Congress for bucking the House Select Committee Investigating the Jan. 6 Attack on the U.S. Capitol but before he is sentenced in a few months, he has also asked a federal judge to let him leave the United States for a medical procedure.
The nature of the procedure was not disclosed in any detail in a redacted filing entered Friday in the United States District Court for the District of Columbia but he has a known history of medical issues.
Navarro was indicted last June and faced a trial jury for just one day inside the E. Barret Prettyman courthouse in Washington, D.C. this September. He will be sentenced in January.
It is unclear why the 74-year-old's procedure would require travel outside of the U.S. but through his attorney, Stanley Woodward, he indicated in the four-page motion he would only be out of the U.S. from Oct. 15 to Oct. 23.
A response from the judge is likely to come in the week ahead and it would appear certain the request will be granted: in June after his conviction and when the terms of Navarro's release were set, it included "a requirement that the court is to approve all travel outside the continental United States," Woodward wrote, adding he only notified prosecutors of the request on Friday.
Meanwhile, Navarro says he wants to go another round with federal prosecutors in his contempt case and argued in a separate motion that his two-count conviction for refusing to comply with the select committee's subpoena for his records was "unprecedented" and a "gratuitous" injustice perpetrated upon him with prejudice and "without the ability to explain to the jury exactly why [he] failed to comply with the congressional subpoena he received."
At trial, Navarro argued that he did not comply with a request for for his records and testimony because former president Donald Trump had asserted executive privilege over both. Specifically, members of the select committee wanted to know more about Navarro's plan to delay the Jan. 6 electoral certification as it was laid out in his memoir, "In Trump Time."
Navarro also described the same scheme during media appearances, including on MSNBC's The Beat with Ari Melber.
The plot, according to Navarro, would have allowed a pressure campaign on then-Vice President Mike Pence to stop the certification indefinitely as objections were considered. While this was happening, Navarro said it would allow GOP-backed legislatures in half a dozen battleground states stop their certifications on the basis of widespread voter fraud.
Prosecutors convinced a jury, however, that even if executive privilege had been asserted, he was still obligated to appear before the U.S. Congress to answer their questions.
After Navarro was convicted, his defense attorney swiftly moved for a mistrial, arguing that jurors were unfairly and inappropriately exposed to protesters outside of courthouse grounds while permitted to leave the building before rendering a verdict.
ABC reported that in an unusual step, a court security officer testified in court after the motion for mistrial was made.
The security officer reportedly testified that when she escorted jurors, they were still at a distance from press and a person carrying a protest sign as well as a flag. The court security officer —identified as Rosa Torres —said the jurors were not wearing their typical juror badges that would identify them while outside and that she saw no protester or reporter approach them.
When attorneys for Navarro questioned Torres, she told them jurors were outside of the courthouse for a break and that they had returned a verdict anywhere from 20 to 45 minutes later.
In his motion for a new trial entered on Friday, defense attorney Woodward writes that "video footage of the jurors that day confirms the undue influence to which [the jurors] were exposed" and that protesters "held up signs that related to the content of the information sought from Dr. Navarro by Congress, including inflammatory statements such as 'Bro, Should've Pled the 5th… Peter for Prison,' 'Defend Democracy' and 'Free J6 Political Prisoners.'"
Woodward argues that because there was not a barrier sufficient to block anyone's view from protesters or reporters gathered outside of the courthouse, it was "undisputed" that they could be seen and this unduly influenced jurors on the cusp of making a decision.
"The prejudicial nature of the jury's exposure to persons protesting the January 6th riot is clear and something the Court had even warned the government about earlier in the case: Dr. Navarro being associated with either or both of Donald Trump's Presidential Administration and/or events at the Capitol on January 6, 2021, should not be elucidated at trial since the underlying nature of the materials sought by the Congressional subpoena did not affect the contempt of Congress charge," attorneys John Irving and Stanley Woodward wrote.
Have a tip we should know? [email protected]