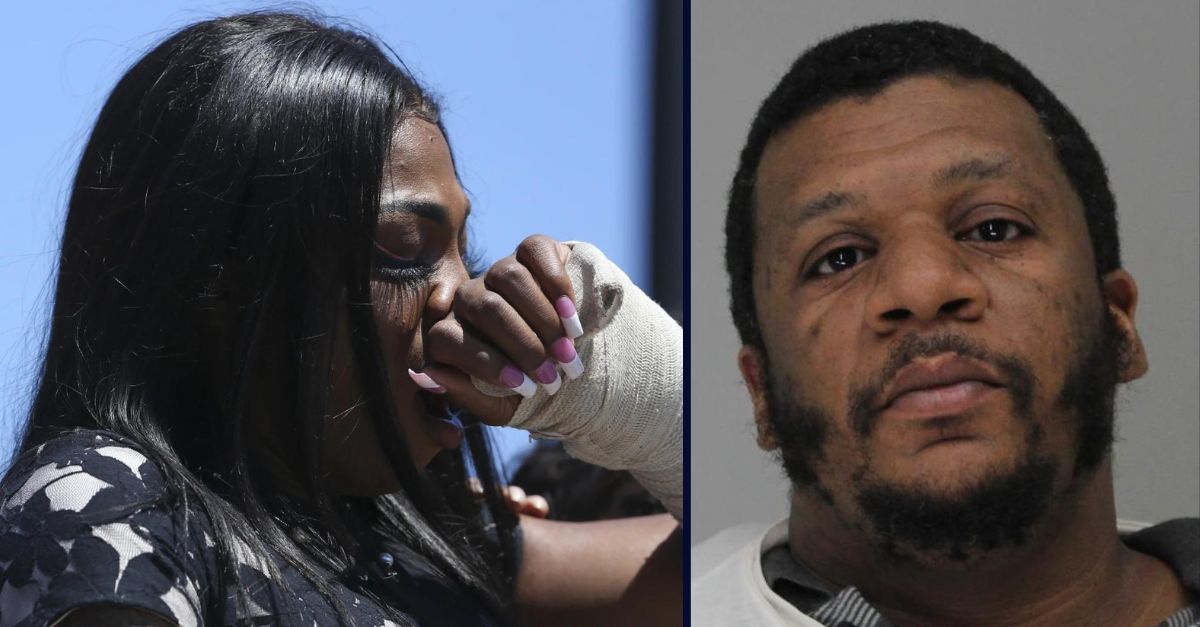 Kendrell Lyles, 37, was sentenced to 48 years in prison for the 2019 murder of Muhlaysia Booker, a 22-year-old transgender woman seen here speaking after she was brutally beaten following a crash about a month before her death. (Booker photo: Ryan MIchalesko/The Dallas Morning News via AP; Lyles via the Dallas County Jail)
A judge sentenced a man to 48 years in prison for killing a transgender woman in Texas back in 2019, according to the Dallas County District Attorney's Office.
Kendrell Lyles, 37, entered a guilty plea before his trial was set to begin for the murder of 22-year-old Muhlaysia Booker, who was found shot to death on May 18, 2019. Booker gained notoriety after a video went viral of her being brutally beaten following a fender-bender about a month before her murder.
Police arrested Lyles a few weeks after Booker's slaying. Detectives said that Booker got into Lyles' Lincoln LS the night of the killing. Cellphone records also placed Lyles at the location where Booker was shot to death. Citing an arrest warrant, the Associated Press reported a witness told investigators that Lyles frequented the area to meet with transgender sex workers. Booker was found a few miles from where she had gotten in the vehicle.
Richard Franklin, Lyles' attorney, told the AP the guilty plea "was the right result." He didn't know the motive for the killing.
Booker's death led to the formation of the Muhlaysia Booker Foundation, which empowers transgender women to "live a safe, long, productive, healthy, and happy life" with economic and emotional support, its website says. She's described as having "a kind heart, vivacious sense of humor and unmarked loyalty."
Friend Naomi Green told the AP that Booker had "a big, big personality" and a knack for humor.
"She was this towering personality and full of life and energy," Green said. "I could tell that even though she had gone through what she had gone through, she wasn't broken."
Police found no connection between the previous beating and the murder. In the beating case, Edward Dominic Thomas was found guilty of a lesser assault charge and sentenced to 300 days in jail.
Lyles is also charged with the murders of 35-year-old Leticia Grant on May 22, 2019, and 29-year-old Kenneth Cichocki, on May 23, 2019, in Collin County, which is to the north of Dallas. Those cases remain outstanding.
Have a tip we should know? [email protected]