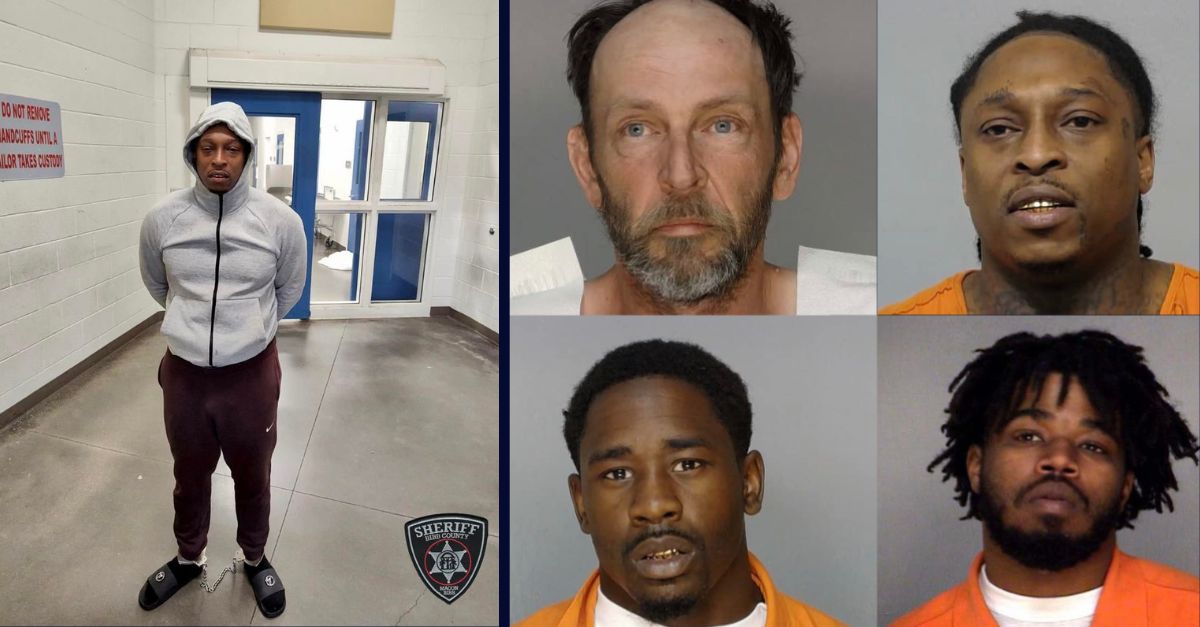 Johnifer Barnwell, left and top right was captured Sunday, Nov. 12, 2023, in August Georgia. Barnwell (top right of the quartet) Joey Fournier (top left), Chavis Stokes (bottom left) and Marc Anderson (bottom right) escaped the Bibb County Jail in Macon, Georgia, on Oct. 16. All but Fournier have been captured. Anyone with information should call the FBI's tip line at 1-800-CALL-FBI (1-800-225-5324), the USMS at 1-877-WANTED2. Tips may also be submitted online at tips.fbi.gov or the USMS Tips App.
Deputies in Georgia have now detained three of the four inmates who escaped the Bibb County Jail, but the one facing the most serious charges out of the quartet —murder — remains on the loose.
The Bibb County Sheriff's Office in Macon said its gang unit along with the FBI SWAT team arrested Johnifer Dernard Barnwell just after 8 a.m. Sunday at a home in Augusta, more than 120 miles northeast from where she escaped. Officials said they recovered "large amounts of drugs of trafficking quantity" from the home where Barnwell, 37, was staying. His initial charge was tied to a federal drug trafficking case.
Joey Fournier, 52, has yet to be captured. According to CBS affiliate WMAZ, Fournier is accused of killing his ex-girlfriend Cynthia Berry, who had moved into a home to escape Fournier, in February 2022. Around 3 a.m. Oct. 16, Fournier and Barnwell along with Chavis Demaryo Stokes, 29, and Marc Kerry Anderson, 25, allegedly escaped the jail through a damaged day room window, cut a fence and fled in a blue Dodge Challenger that had pulled up to drive the escapees away, according to authorities. Deputies describe Fournier as white, with blue eyes and gray hair. He weighs 140 pounds and stands 5 feet, 9 inches. He has a tattoo stating, "I one."
10 days after the escape, the U.S. Marshals Southeast Regional Fugitive Task Force captured Stokes in a home in Montezuma, about 50 miles southwest of the jail. Then on Nov. 3, the Bibb County Sheriff's Office, Georgia State Patrol SWAT and US Marshals took Anderson into custody in Atlanta. Stokes was originally charged with possession of a firearm and drug trafficking while Anderson faces an aggravated assault charge. Additional charges against the escaped inmates are forthcoming.
The manhunt for the four escapees hauled in another wanted murderer who died by suicide as Marshals closed in on Oct. 23. As Law&Crime previously reported, Christian Williams, 23, died of a self-inflicted gunshot wound after U.S. Marshals arrived at an apartment complex, The Pines on Vineville.
Authorities said the federal agents knocked on an apartment door. A man spoke to them from behind the closed door, and gunfire pierced the door from his side as Marshals announced themselves. Authorities called for help from the sheriff's office SWAT team.
"Once the SWAT Team was on the scene, they were met by a subject that was inside of the apartment when the gunfire occurred," authorities wrote. "The subject advised that a male subject was down from a self-inflicted gunshot wound."
Authorities identified the fatally wounded man as Williams. He initially survived in critical condition but soon died.
Williams disappeared on the late night of March 5, just hours before being slated to stand trial for allegedly shooting and killing Greg Lamar Watkins Jr., 27, at a Chevron.
Footage ostensibly shows at least two men kidnapping him. Bibb County Sheriff David Davis and Macon District Attorney Anita Reynolds Howard said at the time that they were not sure if Williams staged his disappearance, according to WMAZ.
Bibb County deputies told Law&Crime that Williams' disappearance was staged.
Davis was vague about Williams' alleged connection to the escapees.
"Let me make that clear — he is not one of our escapees," Davis said when Christian Williams was still alive, according to WMAZ in an Oct. 23 report. "But he is a person that we feel has knowledge of where they might be, that has knowledge of the escape, and who has some connection to at least one or two of the people we're looking for."
Anyone with information on Fournier's whereabouts should call the FBI's tip line at 1-800-CALL-FBI (1-800-225-5324), the USMS at 1-877-WANTED2. Tips may also be submitted online at tips.fbi.gov or the USMS Tips App.
Alberto Luperon contributed to this report
Have a tip we should know? [email protected]